Techspert, the AI technology innovator connecting businesses with experts for industry insights, announces the opening of its US office.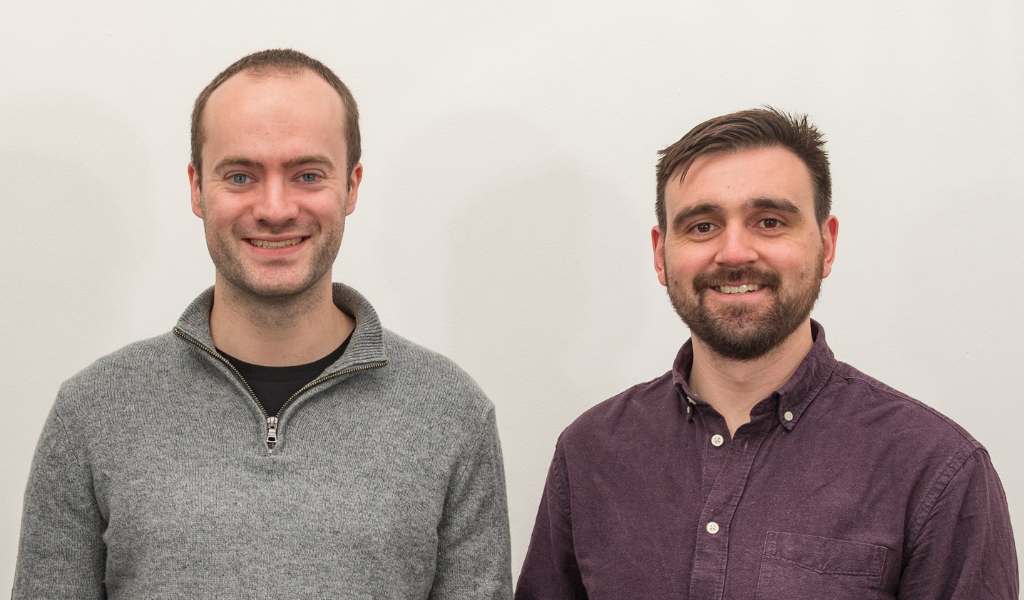 Joint Managing Directors and Co-Founders of Techspert, Graham Mills (left) and David Holden-White (right).
In February last year, Techspert – the AI-powered expert network connecting businesses with subject matter experts for domain-specific insights, closed its £3.76M series A funding with plans to use the investment to further develop its deep AI search technology and fuel its US expansion. Today, the latter has been realized.
Having grown its UK team from 15 people in 2019 to 42 thus far, the AI innovator is looking to achieve the same rapid growth in the US with the launch of its first US office in Houston, Texas.
"Opening the US arm of our company is monumental for an ambitious, growing scale-up like ours and it was a natural next step as our US client base has been scaling so rapidly," commented Graham Mills, Techspert Managing Director and Co-Founder.
"We're on a mission to disrupt and fundamentally change the expert network industry. Having a physical presence in the US, the largest contributor to industry revenues puts us in a prime position to realize this vision," he added.
According to a study released by Integrity Research and Inex One, the expert network industry continued to grow double-digits in 2020, bringing the total industry revenues to over $1.5 billion with the potential to grow to $5 billion and higher over the coming years. And with the 2021 US market revenues estimated at $1 billion, opening an office there is a move in the right direction for the firm.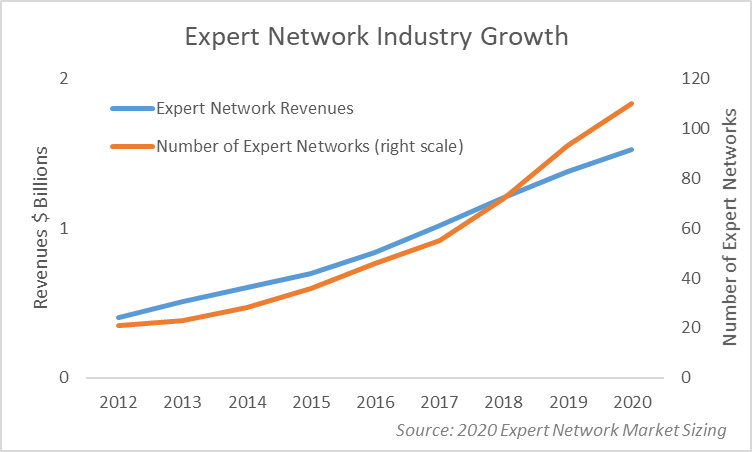 Techspert has also been using its Series A funding to strengthen the continued advancement of its AI search technology to scale outside of life sciences and health industries whilst concurrently growing its business within new client segments.
Technology innovations over the last year include a feasibility calculator – an internal tool that accurately predicts what timeline and quota techspert.io can deliver expert connections within based on a project's parameters, ensuring scientifically precise bids to clients.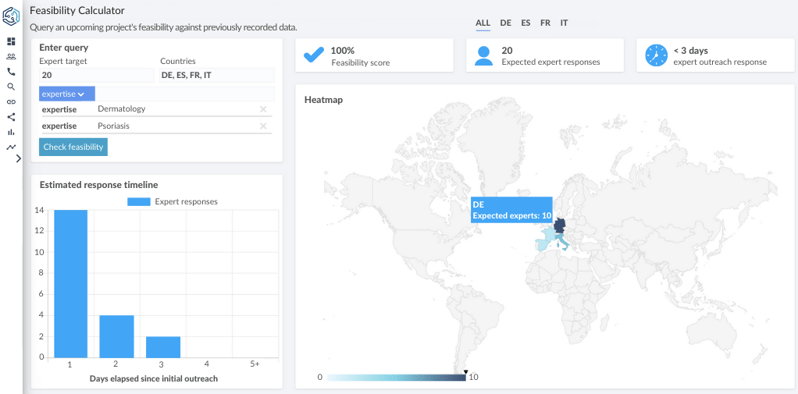 An image showing the feasibility results of a search query for 20 dermatologists specializing in psoriasis, based in Germany, Spain, France, and Italy.
A customer project portal – a custom-built portal enabling customers to manage projects efficiently, view expert profiles and screeners, schedule interviews, download files such as call recordings, transcripts, and CVs, and more. The goal is making the entire process of knowledge exchange as streamlined and efficient as possible.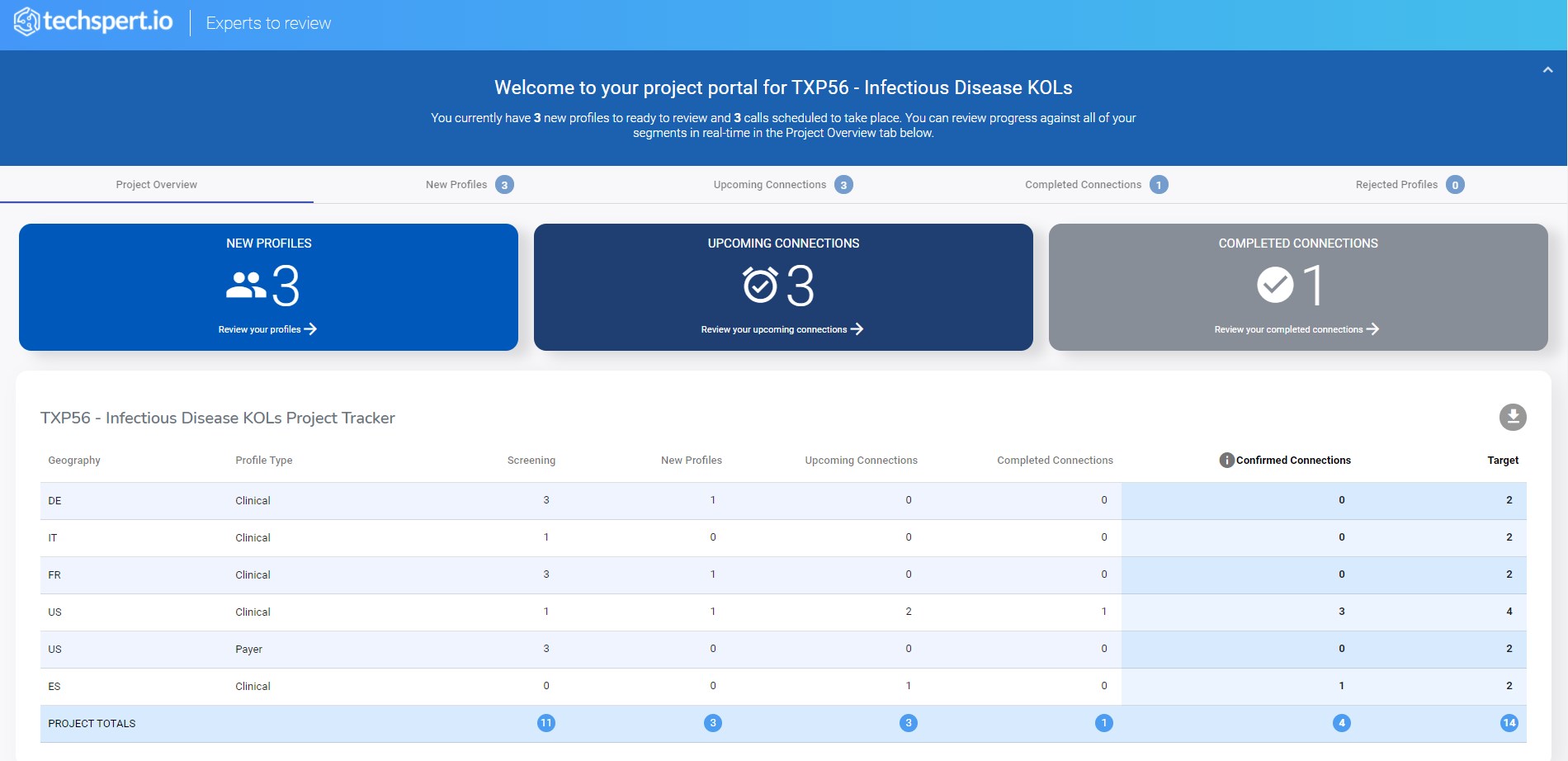 A screenshot of the project portal dashboard
And boosting its network – Techspert's AI search technology indexed 2,430,430 specialty keywords, increasing its network to 56,175,963 subject matter experts.
Without giving too much away, Martin Wilks, Techspert CTO had the following to say about the progress made on the deep tech:
"Using the latest machine learning techniques, we've grown and enriched our network of experts which has more than tripled in the last 12 months, ensuring we connect our customers with experts across a broad range of specialisms all over the world."
"One of our other core focuses has been upgrading our search stack, enabling significantly improved expert matching accuracy to customer needs. It's not only about having the data but knowing how to use it too," he added.
David Holden-White, Techspert Managing Director and Co-Founder concluded:
"We're hugely excited to be expanding into the US. We'll be able to serve our US customers more effectively and ensure that they have all the support they need in connecting to precisely the right experts through our platform – often experts no one else can find."