In this series of expert interviews, Techspert speaks with frontline healthcare specialists to get unique, on-the-ground insights into how healthcare and health systems in emerging markets are affected and adapting during COVID-19.
Below is an interview with Dr.
Richard Fredrick Okello (MBChB, MPH, MHM) from Uganda recorded on 24 April 2020.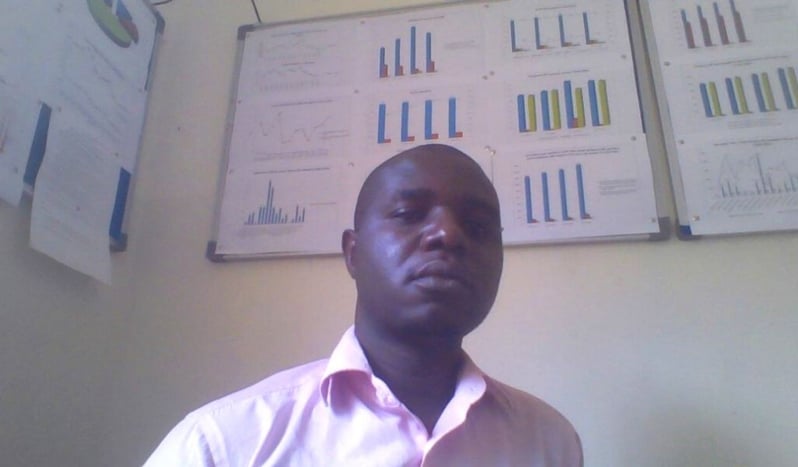 Dr. Richard Fredrick Okello (MBChB, MPH, MHM)
Please tell us a bit about yourself and your current role?
I am a public health specialist with training and working experience within multicultural settings. Over the past 13 years, I have worked for St. Mary's hospital Lacor, Gulu University School of Medicine, the Government of Uganda, and the USAID RHITES-SW Uganda project – a project aimed to enhance integrated HIV service delivery in South-West Uganda.
90% of my work has been in the field of infectious diseases. Namely, malaria, HIV, TB, diarrheal diseases, and others.
Currently, I am the Country Implementing Manager for pediatric TB projects, supported and funded by Unitaid. This involves catalyzing innovative solutions for pediatric TB in Uganda and supporting districts to ensure health workers and patients access safe and quality TB services amidst COVID-19 pandemic.
What are your responsibilities in Ugandan healthcare?
Currently, my main duty is to contribute to the reduction in suffering and deaths due to pediatric TB by removing critical access barriers to facilitate the scale-up of pediatric TB prevention, treatment, care, and support .
I am focusing on:
Creating an enabling policy and regulatory environment at the national and district levels.
Increasing access to pediatric TB treatments through improved disease detection.
Generating novel evidence and cost-effectiveness data, driving effective and sustainable consideration for and transition into national programs.
How have your role and responsibilities changed since the COVID-19 pandemic began?
In the past month, I have taken additional responsibility in ensuring TB services continue while ensuring health workers and patients seeking TB services are protected from getting COVID-19.
For instance, I now support triage staff who identify potential COVID-19 patients and allocate the patients into different care areas, source non-contact infrared thermometers to identify patients with fever without touching them, support the procurement of PPE (personal protective equipment such as surgical masks, scrub gowns, face shields, gloves, goggles, etc.).
Lastly, I need to ensure that health workers' attention is not solely shifted to COVID-19 and that they are not neglecting screening, identifying suspected TB clients, conducting tests, and treating those with TB.
How is COVID-19 currently tested for and treated in Uganda?
Uganda has a national network of hubs that test all COVID-19 samples collected from healthcare facilities and country entry points such as airports and land borders.
A trained laboratory technologist from a hub collects oropharyngeal and nasopharyngeal samples from suspected cases and packs them. The packed samples are then collected by a hub rider who is tracked by the Ministry of Health COVID-19 response team and internal security team until the samples are delivered at the Uganda Virus Research Institute (UVRI). The tests are conducted at UVRI and the results are delivered to the Health Minister. The updated infection numbers are shared with the public and other stakeholders.
Any confirmed cases are evacuated to isolation centers by a trained ambulance team for isolation and supportive treatment in hospitals. Each patient is monitored for regression of the virus and is only discharged when two samples test negative collected 24 hours apart.
Before discharge from the hospital, the community is prepared to receive the recovered patient. A community meeting is conducted to orient the perception of people towards accepting the recovered person as a low-risk person thus ensuring smooth integration back to the community.
We have had no coronavirus-related deaths so far.
How has the national healthcare system evolved during the pandemic?
Following the presidential directives on the coronavirus pandemic issued on 30th March 2020, the healthcare system had to evolve in order to stay afloat to continue providing essential health services.
Following the directive guidelines:
Meetings are restricted to five people.
All community gatherings, including religious and customary meetings, have been suspended.
The use of public and private vehicles has been suspended except trucks delivering food or goods. Boda bodas (bicycle and motorcycle taxis commonly found in East Africa and the most common mode of transport in Uganda) have also been suspended from carrying passengers. As a result of these travel restrictions, there was a significant two-thirds reduction in the number of people seeking health services shortly after the guidelines were implemented.
All institutions have closed except health facilities, banks, and revenue collecting points
To continue providing essential health services appointments, the frequency of patient visits had to be adjusted. Health workers have been directed to schedule appointments with a maximum of five people at a time, to give patients multi-month refills (to limit frequent trips to the facilities), and to provide phone counseling for patients who don't require in-person treatment.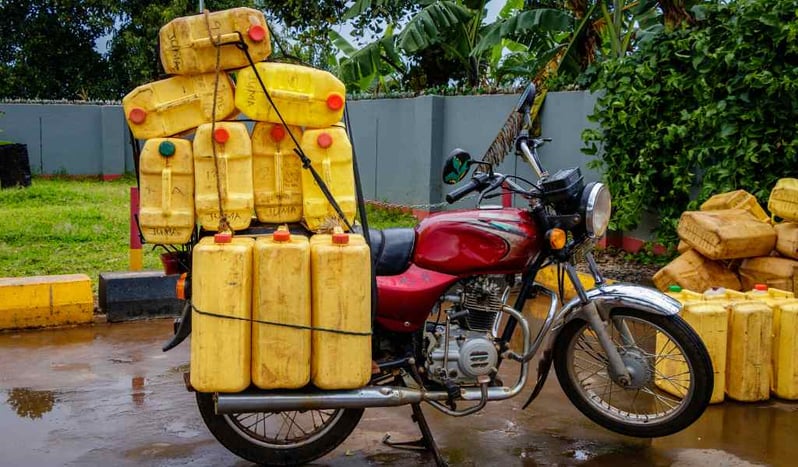 A typical boda boda
How has quarantine been implemented in your region? How does outbreak investigation and surveillance work?
Currently, quarantine is being implemented in three forms.
First, all people entering Uganda are screened for signs and symptoms of COVID-19. Their travel history, especially travel from countries with reported cases, is also analyzed.
Second, suspected cases are tested, and high-risk people are subjected to institutional quarantine in designated quarantine buildings or self-isolation is granted to selected individuals on receiving permission. We currently have 36 confirmed COVID-19 cases in quarantine.
Third, lockdown and a 7 PM to 6:30 AM curfew was issued on 30th of March.
So far, the surveillance system has been able to identify a total of 63 confirmed COVID-19 cases. A total of 9 cases confirmed on arrival at airports, 5 at borders of which 4 were truckers entering Uganda from Kenya and Tanzania and 1 a Burundian refugee returning to Uganda, 13 identified in the community, and 36 cases in quarantines.
What challenges have been faced in implementing different adaptation strategies so far?
There have been a few challenges, but we have either found or we are still finding solutions.
When patients in institutional quarantine were restricted to their own rooms, some of them went on hunger strike. As a result, a consensus on free movement within premises was reached but if any member in the institutional quarantine turns COVID-19 positive, the number of days in the quarantine is reset back to zero.
When the lockdown was first implemented, boda boda travel was only allowed between 6:30 AM to 2 PM. However, since this mode of transport is the most used in Uganda, boda boda operation has been extended to 7 PM daily.
Unfortunately, low-income households in informal settlements have run out of food. Currently, there is a campaign to mobilize funds from different institutions and charitable people who can afford to buy food that is distributed to the affected households.
It was found that some truck drivers were traveling with COVID-19 positive passengers. To resolve this, only the driver is allowed in the truck while carrying goods or food items.
The turnaround time for samples collected from far-off points in Uganda is currently over 24 hours so attempts are being made to acquire test kits that give instant results.
Lastly, a critical challenge that is receiving top attention is the limited number of ambulances. To overcome this, the president has directed all the vehicles in different ministries to be given to the Ministry of Health and the District Health Office to serve as ambulances.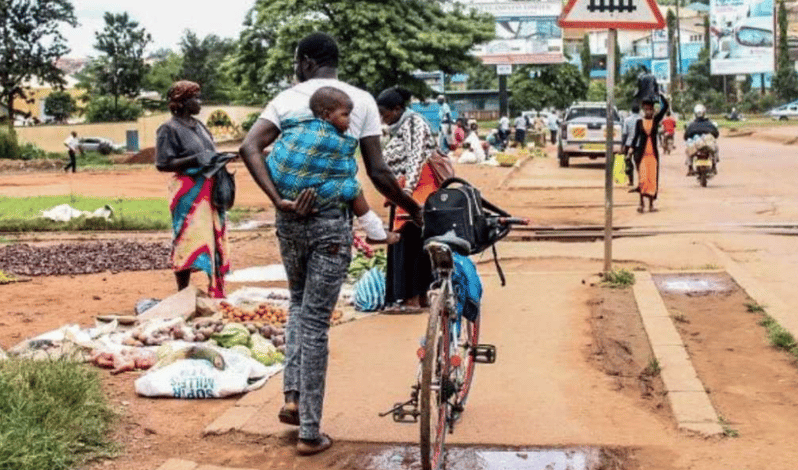 A man carries a sick child on his back on Access Road in Kampala. Many people have improvised ways of getting access to essential services among which is the use of bicycles following the ban on both private and public transport. Image supplied by Dr. Richard Fredrick Okello.
How has COVID-19 impacted treatment of patients with other infectious diseases? Are resources still able to be mobilized effectively?
Currently, the very sick can access required health services but after having gone through a long process if the family cannot use their bicycles to transport the sick to the nearest health facility.
If they cannot use a boda boda, the affected family must request permission from their Residence District Commissioner to allow one of the few available ambulances to fetch the sick person to be taken to a health facility for treatment.
The mobilization of resources has been tough. In the past month, all resources have been diverted towards the containment of COVID-19. In fact, guidance had to be issued by the Ministry of Health on how to provide HIV and TB treatment amid the pandemic to ensure that patients with other infectious diseases are not neglected.
How have community perspectives evolved with respect to healthcare?
With community health outreaches that attract public gatherings suspended, all communities believe they have responsibility to take care of their own health to stay alive. For instance, almost all institutions in the community including markets, grocery stores, supermarkets, banks, and others have handwashing facilities with at least one person ensuring that people wash their hands before entering the premises.
Also, within these institutions, a two-meter barrier is set to keep a safe distance between the customer and the provider. Furthermore, as one moves in the streets, you will see a few people wearing masks and gloves, and hand sanitizers being sold and bought outside designated pharmacies.
What do you see as the most important project or initiative for responding to the pandemic?
In my opinion, to implement a project effectively, it must be guided by a concrete understanding of the pandemic stage which I'd define as no active COVID-19 infection, active COVID-19 infection restricted to quarantine setting, active COVID-19 infection in the community or in both community and quarantine.
My proposition:
In the instance of no active COVID-19 infection, projects need to be designed to eliminate the importation and spread of the virus and to identify those infections that filter through the borders.
Measures could include ensuring hand washing, sneezing, and coughing etiquette are reinforced at country entry points, aggressive screening of people arriving at country entry points for signs and symptoms of COVID-19, suspected cases isolated and tested, and high-risk cases quarantined.
If a case is confirmed, isolation and supportive management in a facility that can monitor respiratory and circulatory function and appropriate intervention is required. Generally, surveillance needs to continue in the community to identify those that might have filtered through the system. Furthermore, all organizations providing travel-related services should implement infection prevention control measures.
For active COVID-19 infection restricted to quarantine setting, projects need to be redesigned to prevent further importation of cases and spread beyond quarantine. The aforementioned project around country points needs to be maintained.
Additionally, daily monitoring of high-risk patients should be done to identify possible suspects for testing and eventually appropriate management for confirmed COVID-19 cases. Patients should be released when no spreading of COVID-19 virus has been confirmed or when there is no evidence of infection in high-risk patients within 14 days.
For active COVID-19 infection in the community, the ideal project design should ensure that there is massive screening and testing for COVID-19 virus and that health workers are equipped to adhere to and implement infection prevention control measures.
Additionally, the identification and isolation of confirmed cases and contact tracing should be conducted to identify and quarantine all COVID-19 cases within 2-3 days and appropriate supportive treatment should be provided for all confirmed isolated cases.
Furthermore, community practices should be oriented towards adopting hand washing, sneezing, and coughing etiquette, limiting the number of visits at essential services (such as health facilities and grocery stores) as well as making appropriate structural adjustment to allow two-meter distancing.
Lastly, lockdown should be the last option, guided by the clustering of confirmed cases and the distribution of contacts.

Read the full emerging market series: