Learn more about DOLs and how they've revolutionized primary market research and knowledge exchange within the healthcare industry.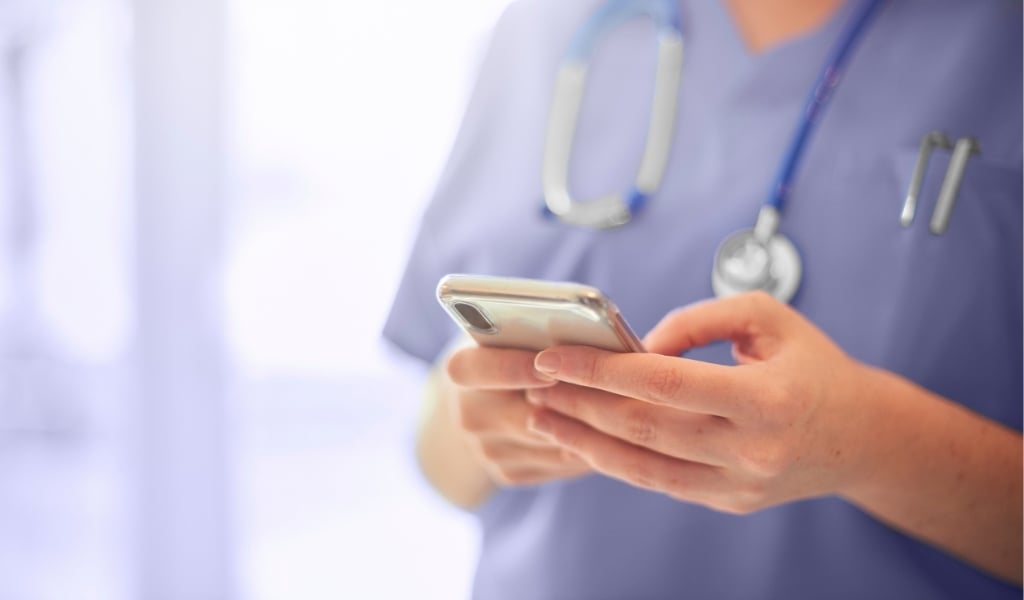 Key opinion leaders (KOLs) have been a vital part of healthcare primary research for decades, helping to inform, influence, and guide business and treatment strategies.
KOLs are traditionally identified using criteria such as having the right academic credentials, speaking at conferences, being published in relevant journals, peer-reviewed by equally esteemed colleagues, and involved in clinical trials. These traditional channels often act as gatekeepers, with KOLs fitting an expected traditional profile.
However, as the digital landscape has evolved, so has the way many KOLs communicate with their peers and the wider public. In fact, an emerging generation of healthcare knowledge leaders are increasingly using online channels, such as social media and blogs, to:
Drive health policy decisions

Define the views of their online peers

Build their professional network

Engage patients directly on relevant topics, and more

Offer and access professional and peer support

Campaign on issues important to them
We call these digital opinion leaders (DOLs).
How to identify a digital opinion leader
DOLs communicate with their peers, businesses, and the wider public primarily through digital platforms such as blogs, podcasts, and social media, with the latter becoming an ever-powerful tool in the DOL's arsenal.
In fact, this healthcare and social media report shows the total interactions on Twitter for leading biopharmaceutical brands rose nearly 255% in 2020 compared to 2019. Further studies found that 60% of doctors say social media improves the quality of patient care and 68% of parents used social media for health information.
DOLs often don't fit the traditional profile of a KOL, and their emergence has redefined what it means to be a healthcare opinion leader. Their impact can be measured in ways such as:
The number of relevant followers they have on their social media profiles

How frequently their content is shared, especially among respected peers

How relevant their content is when they post
Although these metrics don't focus on the number of journal articles written or conference presentations given, they give a different perspective on how to measure influence and thought leadership in healthcare. Ultimately, a DOL should be considered no less relevant than a traditional KOL, but rather as a healthcare professional (HCP) who has harnessed the power of digital networking.
Now that we know how to identify DOLs and measure their influence, let's look at how they're reshaping the healthcare industry.
How the rise of DOLs has improved diversity in the healthcare industry
As the number of healthcare DOLs has increased, so has their level of impact on the wider industry.
With conventional KOL gatekeeping out the way, the rise of the DOL has led to a diversification of voices, wider inclusion, and a much broader range of debate within the healthcare knowledge landscape. Historically, much of this would have been among KOLs based in developed countries and those in privileged positions, such as prestigious universities or global pharma companies.
As pointed out in this Knowledge Beyond Borders article, this in turn often leads to 'groupthink', the same voices being amplified, the same ideas being circulated, and a lack of real innovation.
The democratizing effect of digitalization has created platforms where more HCPs from different backgrounds can make their voices heard, no matter who they are or where they are in the world, and offer fresh perspectives on healthcare topics.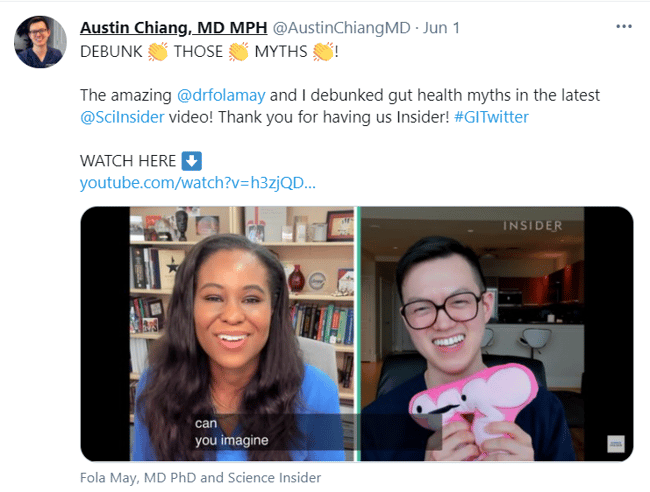 Fola May, MD PhD (left), an Assistant Professor of Medicine and Director of Quality Improvement in Gastroenterology at UCLA and Austin Chiang, MD MPH (right), an Assistant Professor of Medicine and Director of the Endoscopic Bariatric Program at Jefferson Health using social media to debunk myths about indigestion. At the time of writing, the video had almost 90,000 views.
This democratization has also created a world where HCPs can now exchange ideas instantly and react to events as they unfold; there's no more prescient example of this than how DOLs have reacted to the COVID-19 pandemic.
The impact of healthcare DOLs during the COVID-19 pandemic
Over time, ever-growing networks of DOLs have ramped up the pace of healthcare research, with information about a particular disease or treatment being disseminated instantly for discussion and further research. This was previously a process taking months or years, via a journal publication or presentation at a scientific conference.
This can be evidenced through the events in January 2020 when SARS coV-2, the virus that causes COVID-19, was identified and sequenced in China. The genome was published online and within days, laboratories around the world were growing the virus and working on vaccines well before they entered into clinical trials.
In fact, the COVID-19 pandemic has demonstrated the importance of how DOLs are democratizing healthcare knowledge by making it easily accessible for both their peers and the public to access. The sheer availability of data relating to the pandemic has enabled debate on a scale not previously seen in the healthcare industry, with DOLs – such as these "COVID-19 Influencers" – using their digital reach and influence to share information, analyze data and shape policy decisions.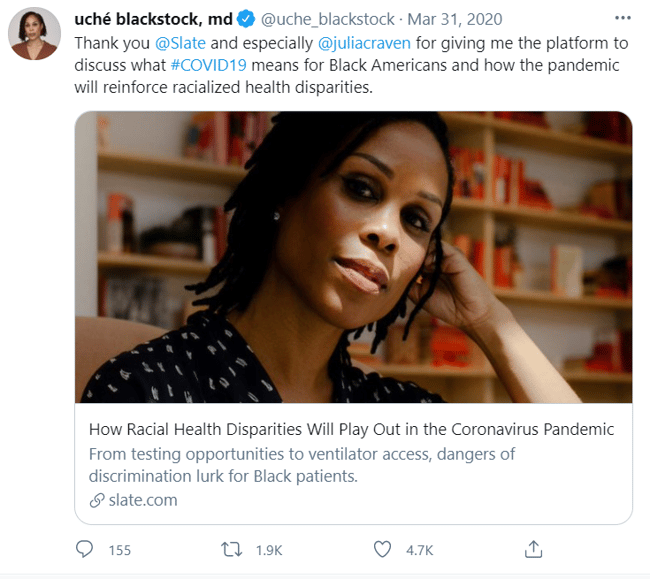 With almost 98,000 Twitter followers at the time of writing, Uché Blackstock, MD, is an emergency medicine physician and founder of Advancing Health Equity. She often shares research about the disproportionate effects of COVID-19 on Black, Latinx, and indigenous communities.
Furthermore, in practical terms, social distancing rules and greatly increased remote working and learning have brought the level of online events to previously unmatched levels.
Events where traditionally KOLs would have gathered to exchange ideas, such as conferences and seminars, have been replaced with webinars and online conferencing, maintaining or even increasing the pace of discussion on key issues. These events are, by their nature, more open and accessible than their offline counterparts and encourage a greater diversity of participation.
In the public sphere, the pandemic has led many people to become more aware of healthcare DOLs as trusted sources of information, using these key insights to bring clarity on things they may not understand. The open nature of DOL networks means that those who are interested in the data and minutiae can easily access it.
So, with all this in mind, let's summarize why businesses should be paying more attention to DOLs.
Why you should engage with DOLs for primary market research
Harnessing the knowledge and influence of DOLs can be a powerful way to boost your market research. The ease of access to online channels is giving a more diverse array of professionals the opportunity to share their expertise and transcend geographical and academic barriers to lend their voices to primary market research. This offers businesses fresh perspectives in cutting-edge topics.
For example, we've helped a consulting firm connect with US and EU-based breast cancer and oncology DOLs for market research purposes. Specifically, they wanted experts with active online presences reaching a global audience, and who used both public and medical gated platforms.
The purpose of the discussion was to drill down into their experience with digital communication, their motivations driving online engagement, and their connection (if any) to pharma.
We've seen an increasing number of management consultancy firms engaging DOLs to make their project bids stand out and be more successful with their end clients. The unique insights offered by DOLs often gives them the edge over their competitors, ultimately winning them more business.
Of course, the rise of DOLs doesn't mean we should entirely do away with traditional KOLs. Both are powerful sources of first-hand knowledge, depending on the requirements for your research project.
However, it's important not to discount the power and influence of DOLs, some of which may have an advantage when it comes to seeking out the most relevant, up-to-date industry insights. Moreover, DOLs are often in pole position to advocate and advise on key issues, reflecting the views and opinions of their broad base of followers.
In today's digital age, it's clear that DOLs are fast becoming the new KOLs. So, if you haven't included DOLs in your primary market research, what are you waiting for?