Discover how the dermatology experts our AI sourced for our customers provided key insights in complex areas, from the development of new treatments to healthcare investment decisions.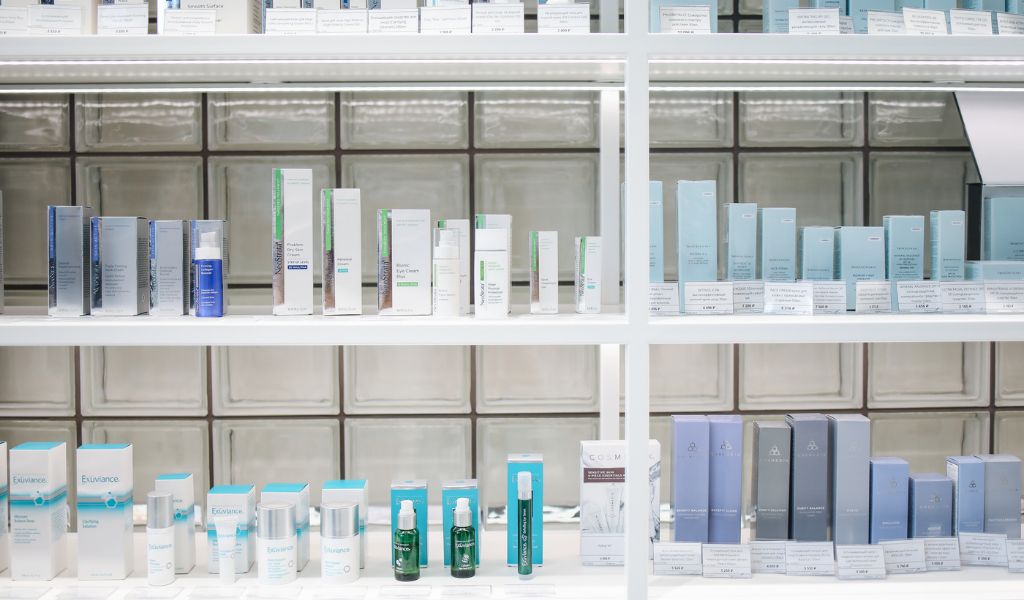 At Techspert, our AI-powered search technology allows us to identify and connect your business with subject matter experts faster and more precisely than traditional expert networks. Because our tech thrives on specificity, we can track down healthcare experts in highly complex fields, such as dermatology, to find you the expert insights you need.
Discover how we've leveraged the power of AI to deliver key dermatology insights to our customers, enabling them to make better-informed decisions about their projects.
Dermatologists give go-to-market strategy a boost
A healthcare consultancy developing a go-to-market strategy for a topical therapy product in the US and EU5 (Italy, Spain, France, Germany and the UK) asked us to connect them with leading plaque psoriasis and atopic dermatitis (also known as eczema) investigators and clinical researchers.
Through these engagements, the customer wanted to get the experts' opinions on the investigational product and identify potential clinical development risks.
Fueled by precision, volume and speed, our search tech scoured volumes of online content to find and qualify the dermatologists for this project, including:
A Professor of Dermatology with over 30 years of experience in the field who is a board member of the International Psoriasis Council.

A Director of an Eczema Specialty Clinic who also serves as a principal investigator on multiple dermatology clinical and translational studies.
By engaging with these specialists, the consultancy was able to boost their go-to-market strategy with first-hand expertise.
Asset management firm's investment decision supported by insights from dermatologists and plastic surgeons
An asset management firm underwriting a royalty opportunity on a prescription drug needed to conduct market research to help them decide whether to move forward. As such, they asked us to facilitate qualitative interviews and surveys with US-based dermatologists who are active prescribers of the drug.
Furthermore, they also needed to engage with plastic surgeons who work in breast reconstruction.
Leveraging our AI search technology which trawls the web to identify subject matter experts, we connected the customer with relevant, qualified experts, enabling them to get the specialist insights they needed to inform their investment decision.
Some of the healthcare experts the customer gained insights from were:
An Associate Program Director of Plastic Surgery at a large healthcare provider who is also a Professor of Surgery and author of over 100 scientific publications, 15 of which focus on breast reconstruction.

A dermatologist and geneticist who is also an Associate Professor of Dermatology at a major center of medical and biological research and teaching, and author of over 70 scientific publications.
Big pharma commercial experts enable consultancy to better understand therapeutic areas
A healthcare strategy consultancy needed an expert network to help deepen their understanding of commercial aspects regarding dermatology, immunology and rheumatology. To do this, they needed us to connect them with EU5 commercial pharma professionals in sales, marketing, market access, and medical affairs.
Using our internal Semantic Search Engine, we connected the customer with the experts they needed. As shown below, the technology enables us to accurately match experts to a request using various search terms at once, such as geography, field, job title, and specialism, ensuring our customers gain insights from the most relevant experts.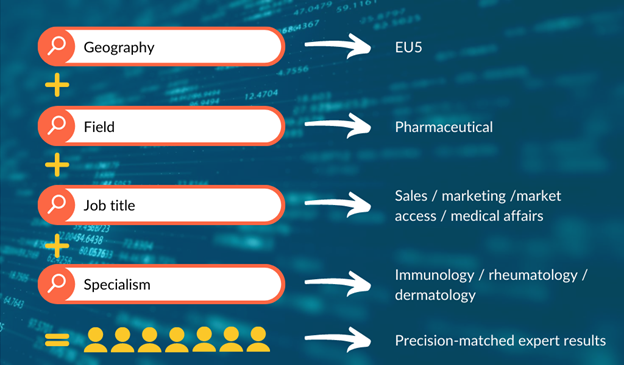 A graphic illustrating Techspert's bespoke Semantic Search Engine.
After engaging with the specialists, the consultancy improved their knowledge of key commercial aspects within each field and used these insights to supplement their market research.
The big pharma commercial specialists our AI sourced and connected the customer with included:
A Senior Key Account Manager of Immunology, Hepatology and Dermatology with over 20 years of experience in pharmaceutical sales who's responsible for positioning in local and regional treatment pathways and guidelines.

A Brand Manager at a biopharmaceutical company with strong pharmaceutical experience in many disease areas including dermatology.
Dermatologists help global communications agency level up their advertising strategy
A global communications agency developing an advertising strategy for their end client on epidermolysis bullosa (EB) – a group of rare, inherited diseases that are characterized by blistering lesions on the skin and mucous membranes – needed to engage with pediatric dermatologists in the UK, US and Canada to help inform their plan.
After scouring the web, our search technology found and qualified the relevant experts the customer needed. Using the insights they got from the engagements, the customer was able to include first-hand knowledge in their strategy to help it stand out.
Some of the dermatologists the customer interviewed were:
A Professor of Dermatology and Cutaneous Biology at a leading university hospital who's also the director of a molecular diagnostic laboratory that performs mutation detection for diagnostic purposes for EB patients.

A Medical Director of a research center at a globally top-ranked public research university who has significant experience in treating pediatric EB patients and has participated in over 75 clinical trials.
Prescribers supplement e-device US market opportunity assessment
A leading life science consultancy doing an e-device US market opportunity assessment needed an expert network to help them engage with physicians who prescribe medication (prescribers) across dermatology and rheumatology to inform their research.
Furthermore, the prescribers had to be from a risk-bearing integrated delivery network (IDN), which is a network of healthcare providers and facilities within a specific geographic region that offers a full range of healthcare services.
Following the interviews with experts successfully found by our tech, the customer gained a deeper understanding of the opportunities in the e-device US market and potential future technologies which may help monitor and support patient adherence.
The prescribers we connected the customer with included:
A rheumatologist at a top-tier hospital with 19 years of experience who's currently involved in three clinical trials into common rheumatological disorders and is an author of many scientific publications.

An award-winning dermatologist at a large dermatology practice who has published extensively in peer-reviewed journals, authored book chapters, and lectured at industry-leading dermatology conferences.
24-hour turnaround enables investment firm to complete due diligence
Prurigo Nodularis (PN), also known as nodular prurigo, usually presents as multiple, hard, itchy lumps (nodules) on the skin. It's unknown why these lumps appear and treating the condition effectively is complex.
An investment firm conducting due diligence on a new dermatology product needed an expert network to match them with PN key opinion leaders (KOLs) so they could learn more about the rare, chronic skin disorder to help inform their investment decision-making, quickly.
One of the most powerful features of our AI search technology is its speed. We've built an internal Knowledge Graph for recording the relationships between experts, institutions, online media, and semantic concepts. This gives us a global, real-time overview of the whole knowledge landscape giving us the power to rapidly identify thought-leaders in various fields.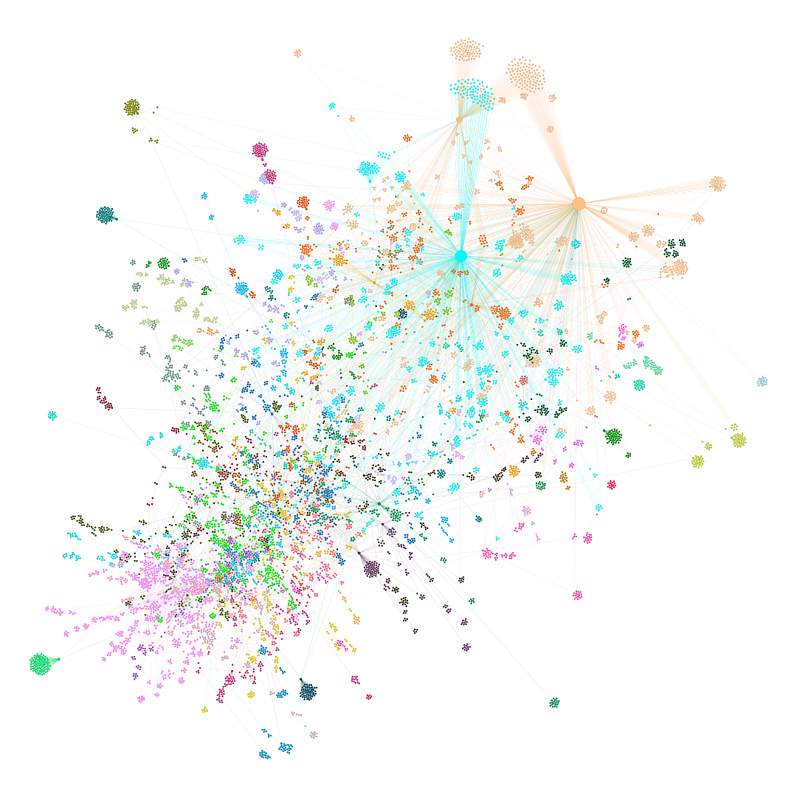 A subset of our Knowledge Graph, showing the connections between concepts where different clusters represent related diseases, syndromes and disorders.
Using our Knowledge Graph, we pinpointed and recruited the top experts in this field in just 24 hours, including:
A Professor of Dermatology with more than 30 years of experience who has authored more than 600 academic papers and led 20 clinical trials focusing on a range of dermatological conditions.

A Consultant Dermatologist and Senior Lecturer at a major teaching hospital who leads a UK-wide research consortium on dermatological disorders and has authored 31 scientific papers in the same field.
Multidisciplinary research project boosted with physicians' hands-on knowledge
A strategic consultancy completing a multidisciplinary market research project on various therapeutic markets and specific conditions within them needed to engage with healthcare practitioners (HCPs) to enhance their strategy.
The HCPs had to meet requirements such as being based in the US, specialize as a dermatologist, gastroenterologist, obstetrician-gynecologist (OB/GYN), intensivist, rheumatologist, or oncologist, and treat a specific number of patients in an average month.
Our AI comprises a suite of algorithms that indexes billions of online data points to identify experts in any specialist field through a combination of natural language processing (the comprehension of human language by computers) and machine vision (the interpretation of visual media by computers).
Because of these algorithms, we can match our customers with the precise healthcare experts they need. For this project, these included:
A dermatologist who is also a Clinical Assistant Professor of Medicine, a fellow with the American Academy of Dermatology, co/author of more than 50 publications and principal investigator in several studies.

An OB/GYN who is also an Associate Professor of Gynecology and Obstetrics, principal investigator of a clinical trial study on uterine fibroid treatment and author of 50 scientific publications on various gynecological diseases.
Pharma company's market research study enhanced with expertise from dermatologists and rheumatologists
A management consultancy asked us to connect them with US and UK-based dermatologists and rheumatologists experienced in treating psoriatic arthritis (PsA) patients to inform a market research study they were conducting on behalf of a pharmaceutical company.
The customer needed to use the insights gained from the healthcare experts to get a better understanding of the future use of a variety of treatments across PsA.
The experts had to meet criteria such as have:
More than 10 years of experience treating PsA

Experience treating patients with systemic therapies

Participated in clinical trials, conferences, and development of guidelines
As with most of our customers, precision was key for this project and our AI relishes accuracy. We arranged qualitative interviews with experts including:
A Clinical Professor of Dermatology with 30 years of experience who spends 95% of their time providing direct patient care and has been involved in authoring guidelines for the management of PsA.

A rheumatologist with 24 years of experience who is personally responsible for initiating biologic therapies in appropriate patients with PsA, has been involved in 15 PsA clinical trials and leads rheumatology research at a university hospital.
Cutaneous squamous cell carcinoma KOLs enhance communications strategy
A global advertising agency supporting its end client with a communications strategy on cutaneous squamous cell carcinoma (cSCC) – the second most common form of skin cancer – asked us to connect them with KOLs to supplement their project with expert-backed knowledge.
The cSCC KOLs needed to be involved in current clinical trials and be based in Germany, Italy, and Australia. With precision being a key factor, our Semantic Search Engine identified and recruited the exact experts the customer needed.
The customer gained insights from KOLs including:
A Professor of Dermatology at a university hospital who has produced reviews for over 40 international journals, has over 700 publications, and is a member of various scientific societies including the European Society of Medical Oncology.

A Dermatologist in the Department of Dermatology at one of the world's oldest universities with over 60 research articles to their name who treats approximately 100 patients a month with cSCC.
Get in touch and discover how we can support your next project with key insights faster and more precisely than traditional vendors.