Techspert, the AI technology innovator specializing in connecting businesses directly to experts for industry insight, has been shortlisted in the AI Company of the Year and The Ones to Watch categories of the Cambridge Independent Science & Technology Awards.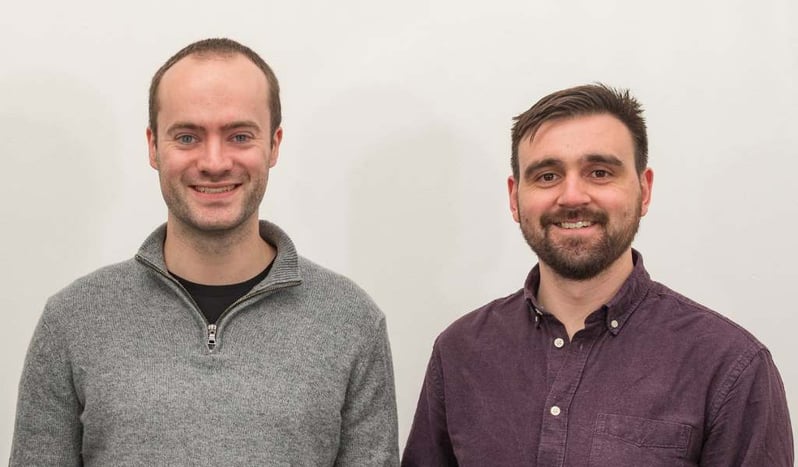 Joint Managing Directors and Co-Founders of Techspert, Graham Mills (left) and David Holden-White (right).
Techspert, the AI-powered expert network connecting businesses with subject matter experts for domain-specific insights, has been shortlisted for AI Company of the Year and The Ones to Watch in the 2020 Cambridge Independent Science & Technology Awards.
The primary research industry has long been dominated by companies sourcing expert connections from contacts they already know, using fixed databases and manual operations with inefficiencies, inaccuracy, and bias. Techspert is transforming the way that knowledge and insight is shared around the world by making it quicker, more precise, and more accessible. Harnessing deep search technologies, it has developed AI to overcome the limitations of manual database systems, offering precision matching of topics to experts for customers.
Powered by machine learning techniques, the AI sifts through billions of online data points to identify and qualify subject matter experts and extracts this data to produce accurate, comprehensive expert profiles for customers to gain primary insights from.
"We're thrilled to be shortlisted for AI Company of the Year and The Ones to Watch awards," said Graham Mills, Techspert Managing Director and Co-Founder. "Cambridge is an incredibly competitive science and tech space. Being recognized for what we've achieved so far is encouraging and motivates us to keep pushing the boundaries."
Following hundreds of entries, a shortlist across 14 categories has been drawn up for the awards. It represents an array of great talent – emerging and established – from across the Cambridge region in fields from biotech to cleantech, AI to Medtech, and features individual categories for Researcher of the Year and CEO of the Year.
"Regardless of the outcome, making the shortlist in two categories is a great achievement and is testament to the brilliant people we have at Techspert. Despite the curveballs 2020 has thrown at us, the team has stuck together and worked hard to achieve our ambitious goals," commented David Holden-White, Techspert Managing Director and Co-Founder.
The judging panel for the awards features independent experts across a range of fields and sectors, from business leaders to specialists. Winners are usually revealed at an autumn awards ceremony but due to the pandemic, it's been delayed until the new year at a date to be confirmed.
---
For more information, please contact:

Sam Mapungwana
Associate Director of Marketing
sam.m@techspert.io

About Techspert

Founded in 2016 and headquartered in Cambridge, UK, Techspert is the first AI-driven solution for improving the speed and accuracy of knowledge exchange between the leading global sources of expertise and the business community.

Its deep search technology unlocks the expertise needed to get the biggest business decisions right, analyzing billions of global online data points to pinpoint the most qualified and relevant expert on a given subject or domain, no matter how niche.

Backed by investors such as Cambridge Angels and Nauta Capital, techspert.io is used globally by companies across the health, life sciences, finance and investment, legal, and marketing sectors to quickly and accurately locate the experts that other networks and platforms simply can't find.