2021 has proven to be another turbulent year for all of us, from the seemingly never-ending twists and turns of the COVID-19 pandemic to the rapidly changing world around us.
As we approach what we all hope to be a safer and less eventful 2022, we want to take the opportunity to look back and celebrate the positives in what has been quite a year for Techspert – so without further ado, here's our 2021 in review!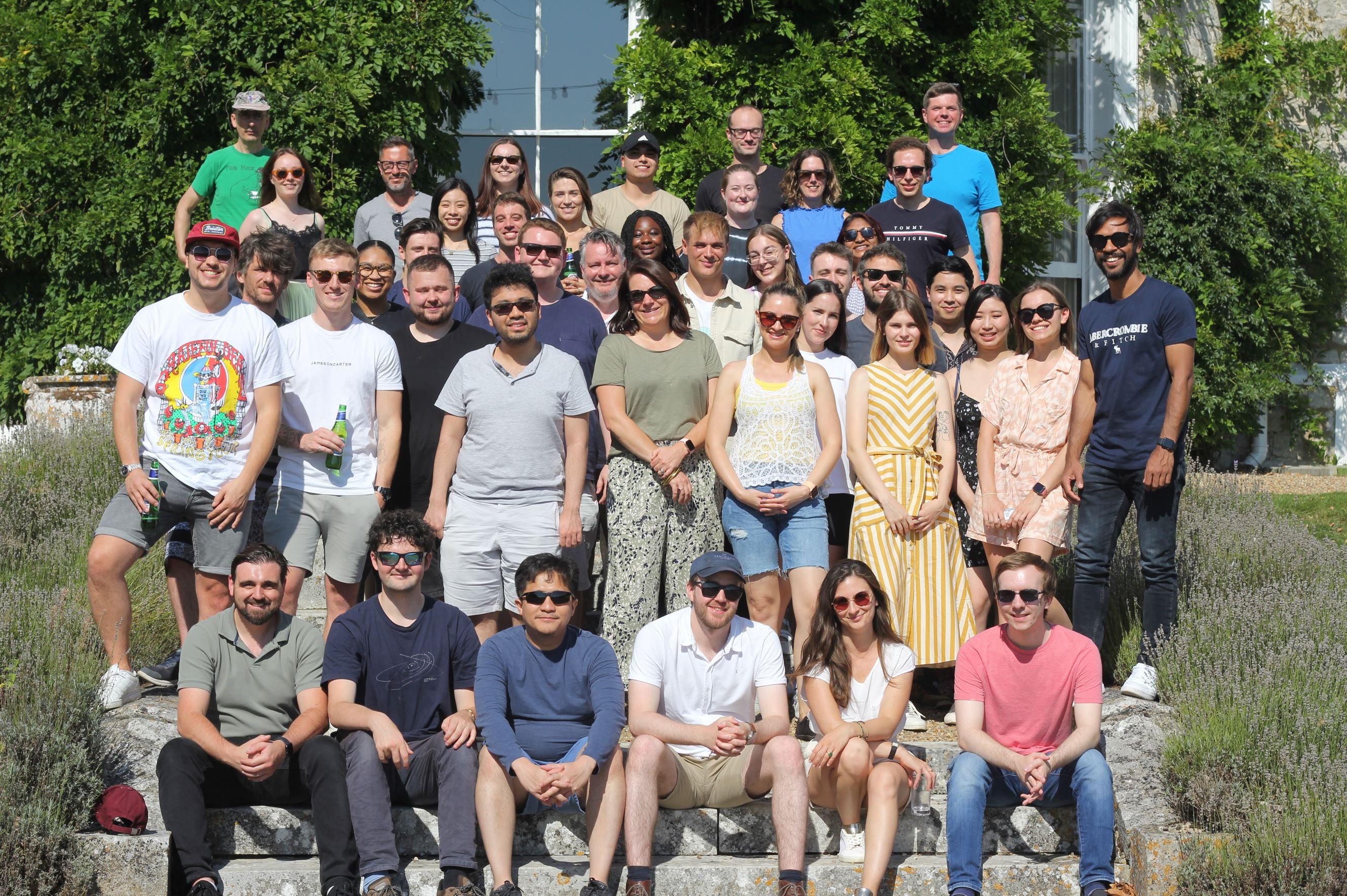 Growing rapidly – 138% year-on-year growth
Thanks to the immense efforts of our dedicated project team and the vote of confidence we've received from our customers, we've continued to rapidly scale as a business, achieving 138% growth compared to this time last year – thank you for your support!
Investing in our future with $12m funding raised
To boost our growth plans and continue to scale rapidly into next year, we were delighted to close a $12 million investment round led by BGF and existing investors Nauta Capital. This investment will let us expand into new verticals, grow our UK-based and international teams and continue to build on our industry-leading search technology and project portal, delivering even faster and more precise results for our customers.
Upgrading our industry-leading project portal
The march of progress never stops, as our tech team knows all too well. This year we've rolled out a suite of upgrades to our project portal; a one-stop-shop enabling our customers to save time by managing all their projects in one place. Features added this year include new search, filtering and sorting options, profile favoriting and profile notes, all designed to make our customers lives easier!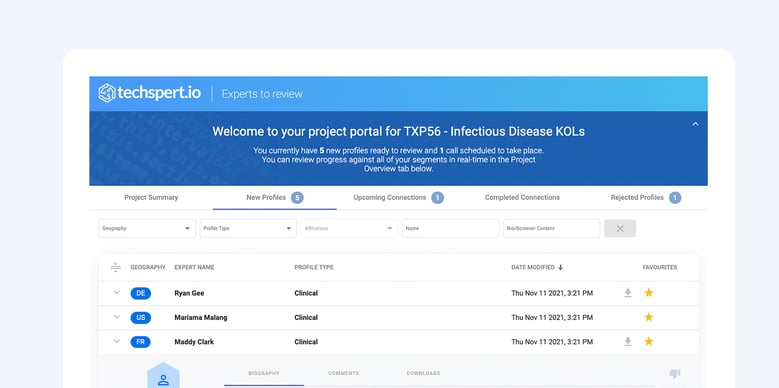 We're very proud of our new and improved project portal - have you tried it yet?
Going global – expanding into the US
This year we realized our ambition of becoming a truly global company with the opening of our second office over in Houston, Texas. We're continuing to build our US team at scale so we can better understand and serve our customers right across the US, having already onboarded four fabulous US-based Techspertians so far!
Delighting our customers again and again
We're super proud to have achieved and maintained a 99% customer satisfaction rate throughout the year – a testament to the power and precision of our AI search technology and to the awesome service provided by our customer-facing teams!
Building on our Knowledge Graph
One of the most powerful tools in our arsenal, our Knowledge Graph gives us a global, real-time visualization of the knowledge landscape which lets us quickly identify the foremost experts in any field. This year, we made some upgrades to make our Knowledge Graph even more accurate, ensuring a higher degree of precision than any of our competitors can provide!
Investing in our people
We've added more than 20 new Techspertians in 2021 across every single team at Techspert - and even created a few new ones while we're at it! New ways of working resulting from the pandemic has enabled us to tap into the talent that exists everywhere, rather than just based around our offices – creating our most capable and diverse team yet. Just some of the many things we're doing to support our people include professional development, regular socials and real career progression, evidenced by the dozens of promotions we made this year alone!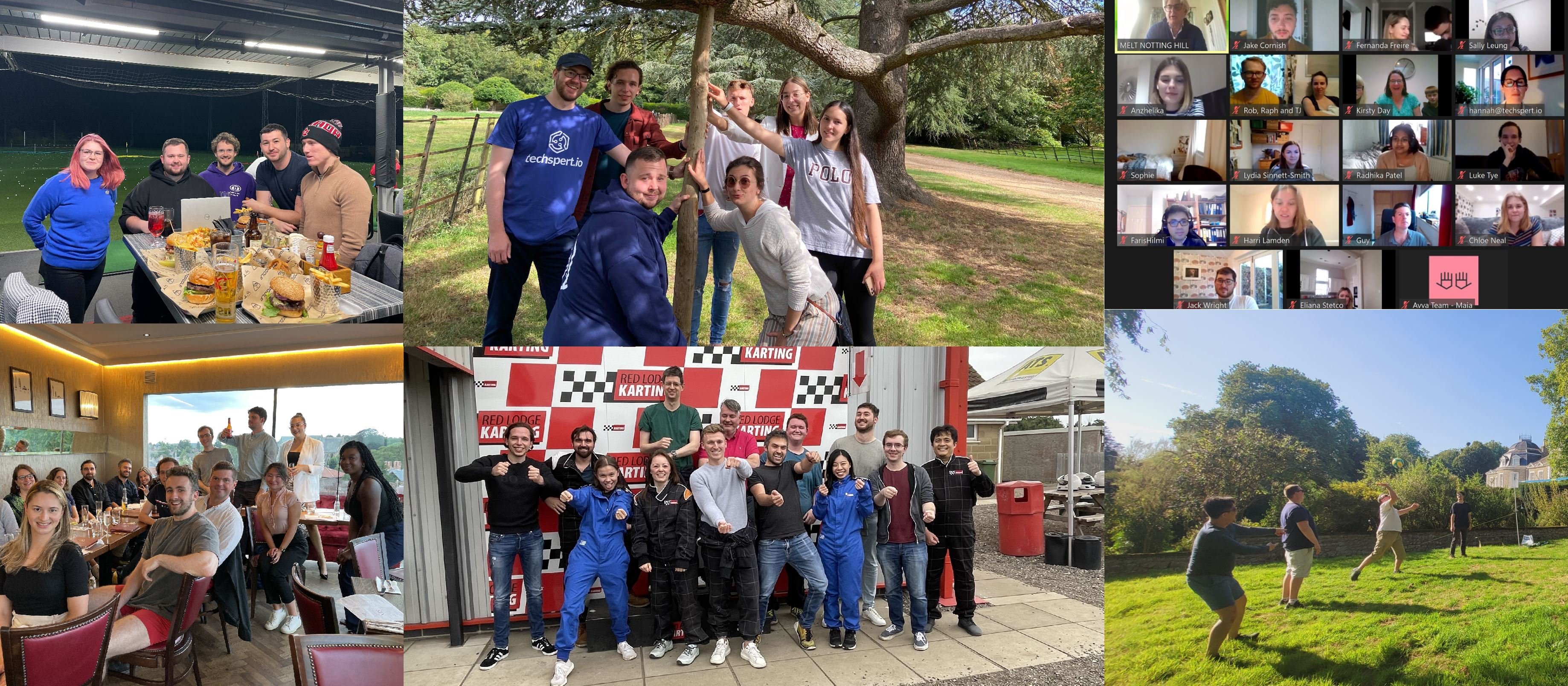 We've been up to lots of fun things this year including go-karting, golfing, chocolate tasting and quizzing!
Expanding our network to cover 280m+ experts
Owing to the rapid development of our AI-powered search technology, we've expanded our network to include more than 280m expert profiles across hundreds of specialisms, from rheumatology to renewable energy. This coverage allows us to connect you with the precise experts you need with ease.
Forging ahead into energy and industrials
This year, as we move towards an industry-agnostic model, we've taken the plunge into a new vertical by expanding our coverage into energy and industrials. This means we'll be playing our part in solving some of today's biggest global challenges, such as climate change and decarbonization, by revolutionizing how expert insights can be harnessed for the greater good in this fast-moving space.
Our annual company retreat
Stymied by the pandemic, this year we opted for a techspert.io stay-cation rather than our usual international getaway! We stayed at the beautiful Oxon Hoath country estate nestled deep in the Kent countryside for two days of strategy, games and relaxation – and of course to celebrate being able to be together again and share in our collective success!
Oxon Hoath, the setting for our annual retreat. We were lucky with the weather too!
It's been quite a journey for us during 2021 – thanks for being along for the ride, and we'll see you in the new year!