We live in a world where everyday tasks such as banking, ordering food, and booking appointments can be done seamlessly online. Engaging experts for primary insights shouldn't be any different. Long gone are the days of using spreadsheets to track projects and expert interviews, emailing back and forth and trawling message chains to approve expert profiles and schedule calls, and having your project information stored in separate places.
With Techspert's project portal, you have everything you need in one place.


Review expert profiles and schedule calls effortlessly
Available to all customers who work with us, our custom-built portal enables you to manage your project efficiently. It allows you to view expert profiles and screeners, schedule interviews at a time that's most convenient to you, download files such as call recordings, transcripts, and CVs, and more.
When building the platform, we kept three key factors in mind – efficiency, transparency, and ease of use.
Efficiency: We understand that many of our customers work in fast-paced environments, so efficiency is paramount. The portal takes on all the leg work involved with arranging expert engagements, freeing our customers to focus on other pressing tasks.
Transparency: The portal is updated in real-time, providing visibility of the full recruitment pipeline, from screenings to booked calls. This ensures our customers are kept informed and have quick access to an overview of their project without having to sift through long email threads.
Ease of use: Our tech team has developed a slick user interface (UI), making it easy for customers to move between the different stages in the portal and find what they need at the click of a button.
A closer look at the project portal
Now that we've had a brief introduction, let's dig deeper into the portal. First up is the Project Overview section.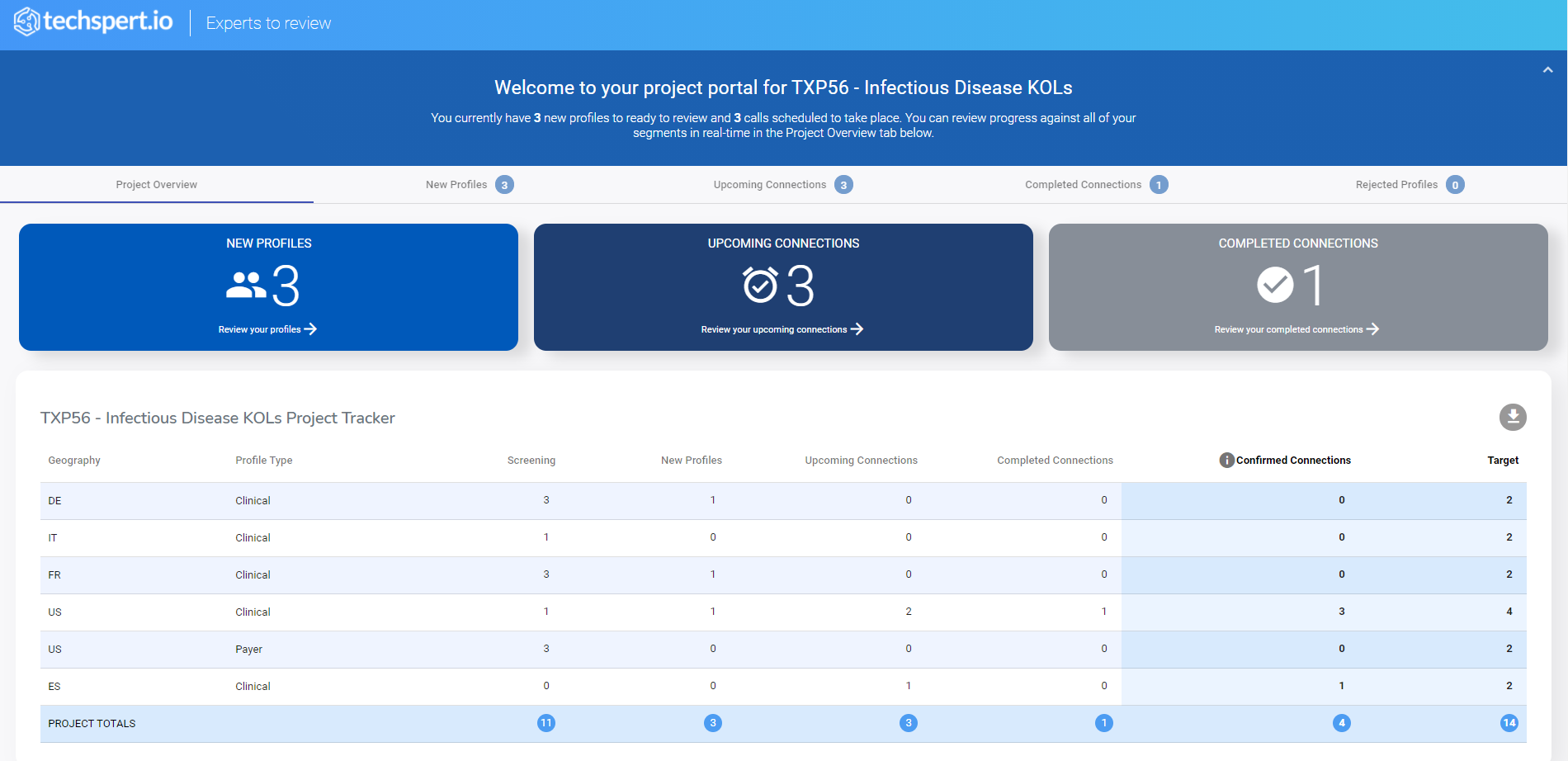 Get a snapshot of all the information you need regarding your project under Project Overview.
The Project Overview dashboard shows you how many new profiles have been loaded to the portal for you to review, how many upcoming connections you have and your number of completed connections, allowing you to easily navigate to these sections in one click.
It also includes a progress tracker table which updates every few minutes and displays a breakdown of the countries the experts are based in, their segment (such as, clinical, payer, and commercial), the number of experts that are in the screening phase, upcoming, completed, and confirmed connections, and the target quota.
Your Project Manager will specify how experts are segmented in your progress table based on the project scope, ensuring the table is fully customized to your project. And when you need to share updates with stakeholders who don't have access to the portal, you can quickly download the progress table as an Excel file.
With the Project Overview dashboard covered, next up is the New Profiles tab.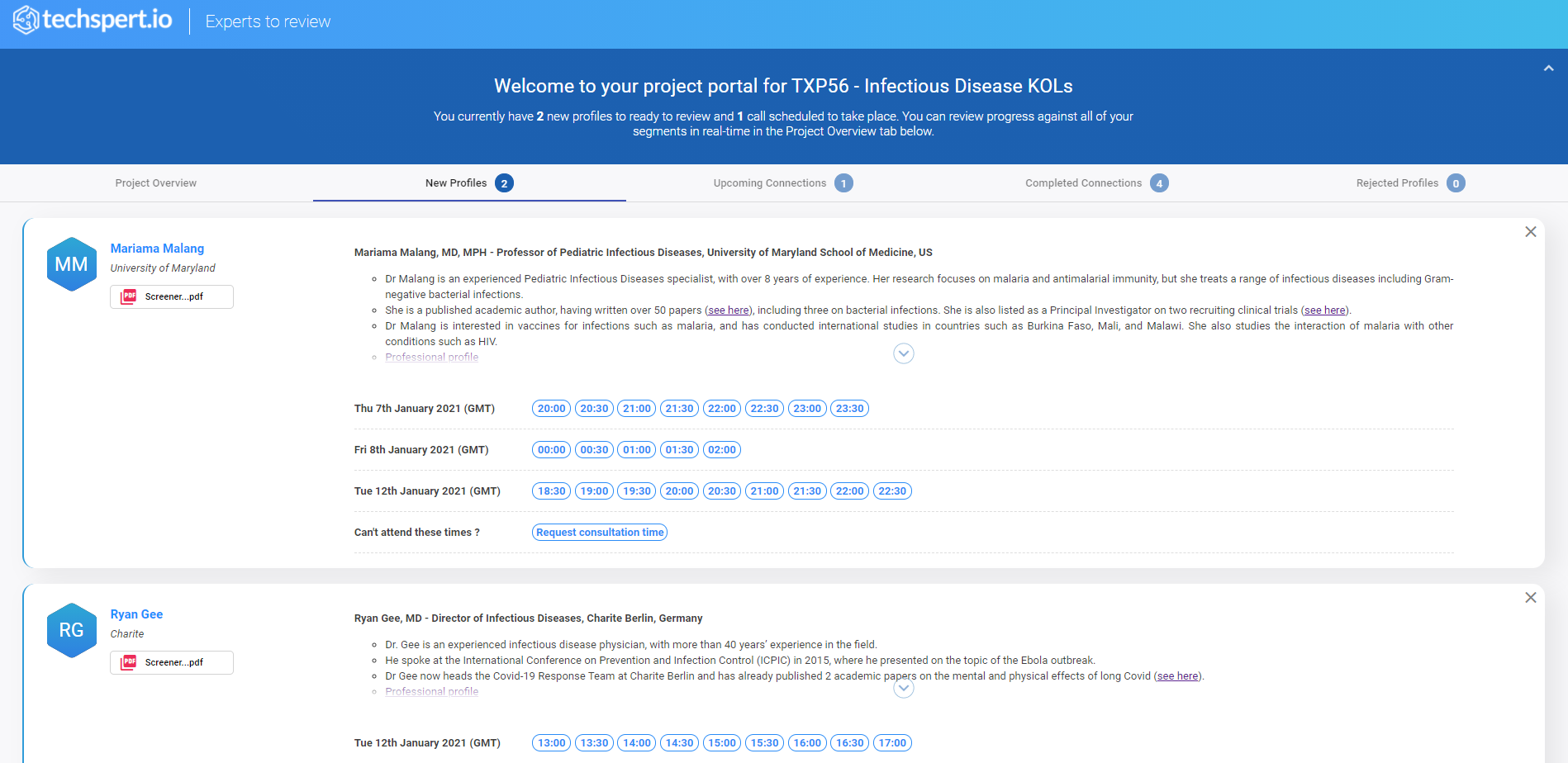 Reviewing profiles, scheduling calls, viewing screeners, and more is a breeze on the portal.
This section enables you to review the profiles of experts sourced by our AI search technology, schedule calls, accept or reject experts, suggest alternative times, and view and download screener responses and CVs.
Since you've easily accepted the experts you want to gain insights from, let's have a look at Upcoming Connections.

View all your upcoming expert connections in a simple format.
Once you've accepted an expert's profile and scheduled a call with them, they move on to the Upcoming Connections tab so you can keep track of your booked calls.
With all your expert calls done, it's time to head over to the Completed Connections section.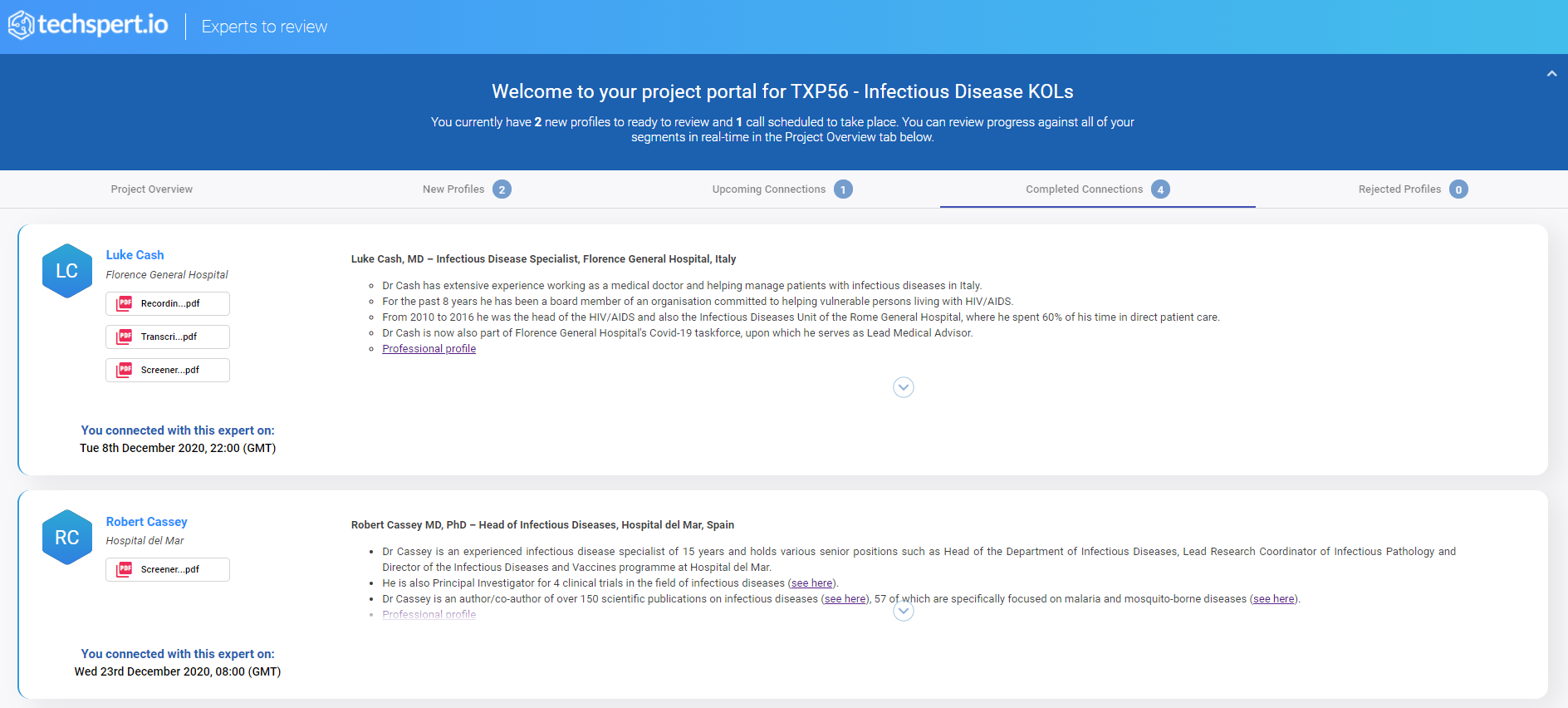 Easily revisit information on the experts you engaged with under the Completed Connections tab.
Here, you can see when you connected with an expert, download interview recordings, transcripts, and screeners. So, if ever you need a reminder of how a call went with an expert or if they shared some valuable insight you want to revisit, this section is your go-to!
On the rare occasion that one of the experts our AI found doesn't meet your criteria, they'd move over to the Rejected Profiles part of the portal. Keeping other sections free from clutter, it stores the profiles of experts you chose not to engage with but as we can see from the screenshot below, you loved all the experts we presented to you.

From scheduling calls to viewing the experts who didn't quite match your needs, the portal simplifies project management.
On top of connecting you with the best experts for your project, we're on a mission to make your life easier when it comes to expert engagements, and with efficiency, transparency, and ease of use at its core, our Project Portal makes this a breeze!
"Partnering with Techspert has been a fantastic experience! In comparison to other vendors, they are more responsive, the process is streamlined (I love the Techspert portal for viewing new recruits), they are easy to work with, source more reliable experts, and provided excellent experts in difficult markets."
Max Bogorad, Life Sciences Consultant
Putnam Associates
*Note: The project portal information shared in this post is from a demo and the names used are Techspert employees.
Want to see our project portal in action?
Pop us a message
!