See how our AI-sourced expert insights have supported several projects in the field of hematology, from market research to the development of pioneering cancer treatments.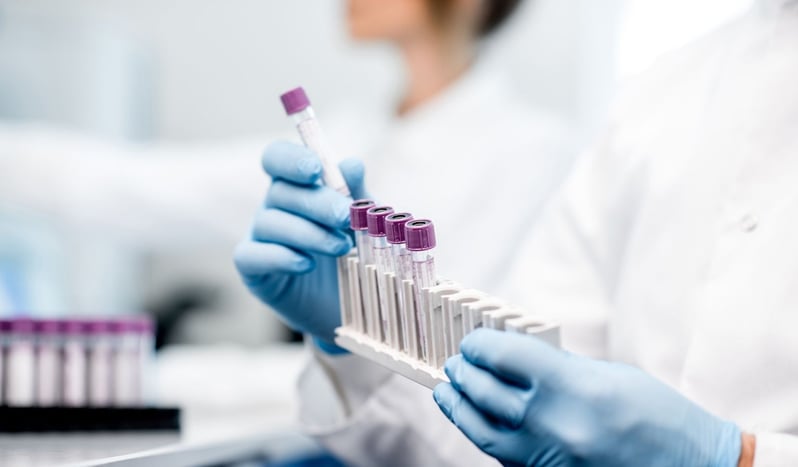 Within healthcare, many businesses turn to expert networks to help them connect with the subject matter experts they need for their projects. Often, these primary insights provide unique perspectives. These niche healthcare experts can be hard to find, but Techspert's AI-driven search technology makes it possible to identify and engage with them.
Find out more about some of the hematology projects we've worked on and how you can leverage expert insights to power your primary market research.
Roundtables and DYADs with hematology

KOLs fuel consultancy's market research
One of the benefits of gaining primary insights via subject matter experts is using an engagement format that suits you and your project. For the project below, the customer opted for virtual roundtables and DYADs (two experts on the call) to gain the insights they needed.
A management consultancy firm conducting market research on smoldering multiple myeloma (SMM), a precursor to a rare blood cancer called multiple myeloma, needed to connect with hematology key opinion leaders (KOLs) who could share their expertise on the topic.
The KOLs had to be based in the US, Canada, France, and Germany and participate in roundtables and DYADs with payers. Thanks to technology advancements, getting experts from all over the globe "in the same room" is easier than ever!
The KOLs our tech found for the customer to engage with included:
A hematologist who also holds the positions of Professor at a university hospital, Deputy Head of a myeloma center, and Research Group Head at a myeloma research institution.

A hematologist who has been a principal investigator on a phase III multiple myeloma trial, contributed to 11 research items on multiple myeloma and published 15 articles on SMM.
Hematology-oncologists supplement qualitative study with expertise
A strategy consulting firm conducting a qualitative study on multiple myeloma, a relatively rare cancer that develops in the bone marrow, needed insights from oncologists / hematology-oncologists based in Brazil, Germany, and Italy to supplement their findings.
We've developed a Crawler, which scours billions of online data to find the world's best experts. Because the Crawler isn't limited to a fixed database of specialists, we can connect our customers with specialists from Brazil to Italy and Germany, swiftly.
Some of the specialists our AI sourced for the customer to engage with were:
A high-profile hematology-oncologist and researcher who has contributed to over 210 scientific publications and is a member of many scientific societies.

A Professor in the Department of Oncology who has contributed to over 170 research items and has held notable directorship positions at a national cancer institute.
Hematologists take communications strategy to the next level
Acute myeloid leukemia (AML) is a rare, fast-growing, aggressive cancer that affects the myeloid white blood cells. Because it progresses quickly, it usually requires immediate treatment.
A global healthcare communications agency conducting market research on AML needed to connect with EU5 (Italy, France, Spain, Germany, and the UK) hematologists specializing in the rare cancer. The agency needed to develop a deeper understanding of AML to support their end client with their communications strategy.
We've developed a Semantic Search Engine, enabling us to accurately and quickly match experts to a request. The search engine allows us to specify an expert's location, field of expertise, and title ensuring that we find the precise specialists businesses need.
The graphic below is a simplified illustration of how our bespoke, internal search engine works.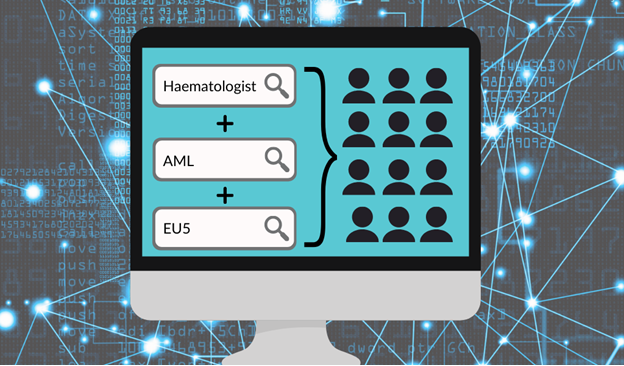 Our Semantic Search Engine uses criteria from a customer's project request, such as location, specialization, and affiliation, to find relevant subject matter experts with pinpoint precision.
The agency engaged with specialists including:
A hematologist who has also been an investigator on AML clinical trials and contributed to over 100 scientific publications on hematology and oncology.

An Associate Professor of Hematology who has authored / co-authored over 300 academic publications in the field.
Hematologist-oncologists deepen communications agency's understanding of breakthrough leukemia treatment
A healthcare communications agency working on a Bruton's tyrosine kinase inhibitors (BTKi) project asked us to connect them with US-based hematologist-oncologists experienced in using BTKis to treat chronic lymphocytic leukemia (CLL).
The specialists also had to work at an academic center or center of excellence, be able to discuss approved and pipeline BTKis and the management of adverse events.
Powered by speed, precision, and volume, our AI found the precision-matched experts for our customer, including:
A hematologist-oncologist who is also an Associate Professor of Oncology, Clinical Director of Hematology, and author of over 30 scientific papers.

A hematologist-oncologist who is also Co-Medical Director of a cancer center and has presented at many national conferences.
Hematologists shed light on treatment of sickle cell disease
A healthcare and life sciences consulting firm conducting primary market research on the treatment of sickle cell disease (SCD) – a group of inherited health conditions that affect the red blood cells – needed to engage with US-based hematologists experienced in the area to supplement their project.
The specialists also had to work at an academic center or SCD center of excellence and have authored publications within the last two years on SCD.
Using our Semantic Search Engine, which finds experts based on a customer's requirements, we sourced precision-matched hematologists who shared their expertise with the customer via tele-depth interviews.
The specialists the customer gained insights from included:
The Founding Director of a center of excellence in SCD who is also a Professor of Pediatrics and Medicine, has been the Principal Investigator in 12 SCD clinical trials and authored 220 scientific publications on SCD.

A Professor of Clinical Medicine and Pediatrics who also holds the position of Director of a Sickle Cell Center for Adults, is the Principal Investigator in four ongoing SCD clinical trials and has authored 100 scientific publications on SCD.
Consultancy enriches market research

with hematologist KOLs' expertise
A management consultancy conducting market research on anticoagulant reversal agents (a critical step in the management of patients with life-threatening bleeding who are taking an anticoagulant) needed to connect with US-based hematologist KOLs familiar with using these agents on patients. They were working against a pressing deadline and needed to conduct the interviews by the end of the week.
We've built a Knowledge Graph that gives us a global, real-time visualization of the knowledge landscape, enabling us to rapidly identify the thought leaders in any given field and connect them with the businesses who seek their knowledge.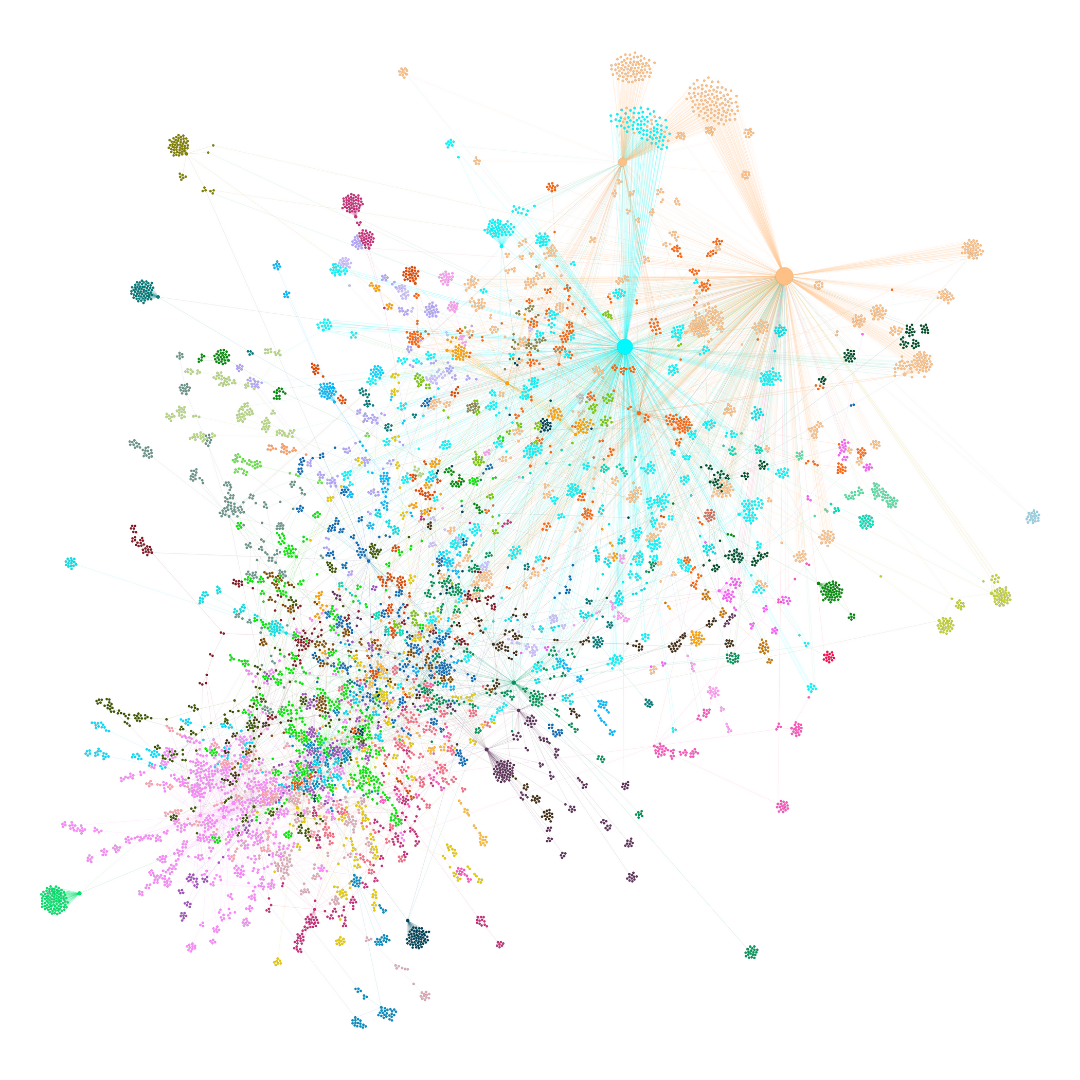 A subset of Techspert's Knowledge Graph depicting the relationships between concepts whereby clusters of nodes represent related diseases, syndromes, and disorders.
Using our Knowledge Graph, some of the experts we sourced and connected the customer with were:
An Assistant Professor of Medicine in the Department of Hematology at a top US medical school.

A board-certified hematologist with over 16 years of experience whose main clinical interest is in thrombotic thrombocytopenic purpura, a blood clotting disease.
Research project strengthened with haemato-oncologists' insights
A strategy consulting firm conducting a qualitative research project needed to gain insights from haemato-oncologists specializing in AML treatment. The experts had to:
Be based in Canada, France, Germany, Italy, and Spain

Practice at an institution that has stem cell transplant capabilities

Have performed stem cell transplant for AML
Based on the above criteria, our search technology identified the relevant haemato-oncologists for the customer to engage with such as:
A Director of Hematology at a university hospital who develops a program of research and clinical application in cell therapy with adult stem cells and is a member of the editorial board of 15 national and international scientific journals.

A Head of Hematology at a university hospital with 25 years of experience who is adept in performing stem cell transplant for AML and has co/authored 400 scientific papers on topics including stem cell transplantation, AML, leukemia, and more.
Market research strengthened with lymphoma KOLs' hands-on knowledge
A management consultancy working on a project in follicular lymphoma (a slow-growing type of non-Hodgkin lymphoma) asked us to connect them with US-based KOLs in the space to support their market research with expert-backed insights.
The KOLs also needed to meet criteria such as having published peer-reviewed articles, a therapeutic focus on hematology or medical oncology, and have clinical trial experience.
Our search technology thrives on precision and isn't deterred by specificity. It successfully identified and connected the customer with the exact KOLs they needed to conduct qualitative interviews with, thus boosting their market research with expert-backed knowledge.
These included:
A Deputy Chief of Hematology/Oncology at a leading academic hospital who has over 20 years of experience, authored over 100 papers, including more than 40 papers on lymphoma and eight focusing on follicular lymphoma, and been a principal investigator on over 10 clinical trials, with three currently active.

A Professor of Medicine at a distinguished university-based comprehensive care center who has over 20 years of clinical experience as an oncologist, authored over 100 papers, including 30 focused on follicular lymphoma, and involved in eight lymphoma clinical trials, three of which are ongoing.
This is just a snapshot of the hematology projects we've supported our customers with. To learn how expert insights could benefit your business, get in touch to learn more about us and kick off your first project!