Every year we go on a company retreat abroad to spend time together outside the office, participate in workshops and have fun! This year we had planned to stuff our faces with pizza, pasta and wine in the majestic hills of Tuscany. With our flights and villa booked and our bags packed we were ready to say arrivederci to Cambridge and buon giorno to Tuscany.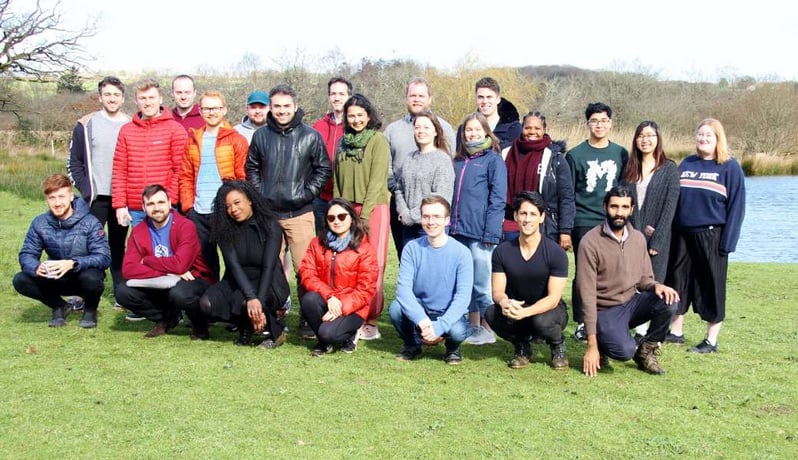 The Techspert 2020 retreat team
But our Italian dream came to an abrupt halt when Italy experienced a coronavirus outbreak two days before we were set to leave. With this unexpected hurdle placed in front of us, our Ops Team launched Mission Rescue Techspert's Retreat and managed to whip together a new venue, agenda and everything else in between to ensure that the retreat went ahead, successfully.
On Wednesday morning we piled into our cars and set off on our road trip to the sandy beaches, fossil cliffs and medieval towns of Devon.
The drive to Devon was a good five hours so to make the journey more enjoyable our Ops team arranged a game of Techspert road trip bingo and stops along the way. What's Techspert bingo, you ask? The rules are simple. Each car had a group of Techspertians in it and they had to complete a series of challenges on their way to Devon. They had to upload evidence of their team completing the challenges to the WhatsApp group and the team that completed all the tasks won.
The challenges included:
Telling a joke to a stranger and having them rate it out of five.
Taking a photo of someone in your team playing on a kids' playground.
Eating a snack without the use of your hands.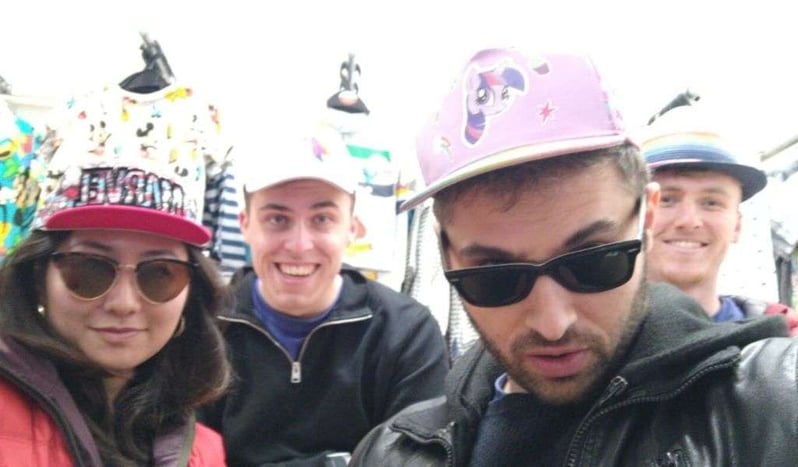 For one of the challenges, Techspertians had to take a photo of themselves wearing hats. Here we have Ayaka and Luke (left to right in the front) and Will and Jack (left to right at the back) looking like they're about to drop the hottest album of 2020.
Once we got to Devon we checked into Libbear Barton, gorgeous holiday cottages set on a stunning 40-acre estate, and got settled in.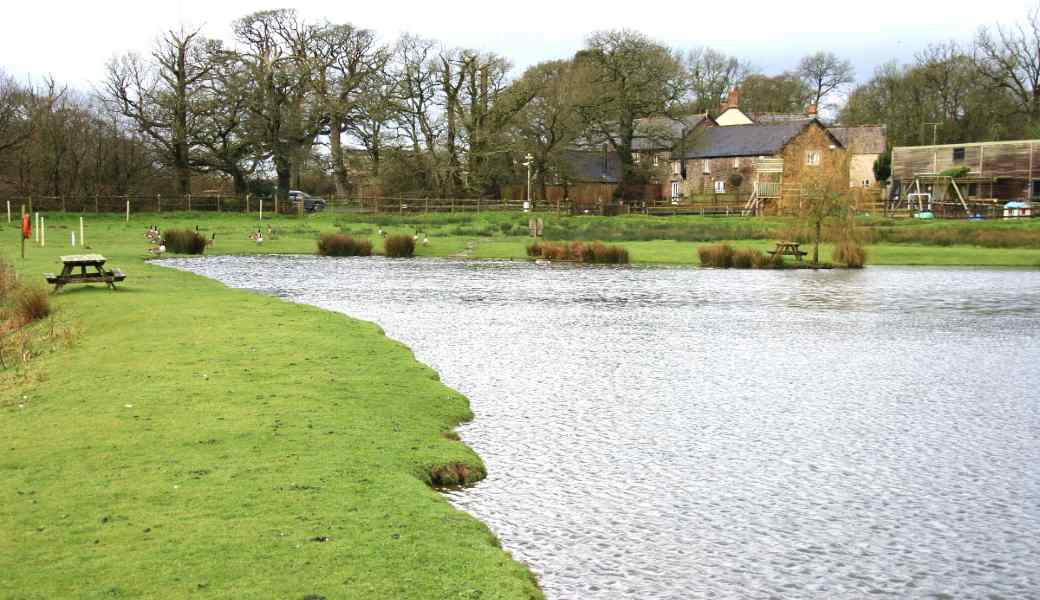 The farm we stayed on had a lovely lake on the property and we had the whole place to ourselves.
We kicked off the retreat with some introductory sessions and decided to bring a piece of Italy to Devon with us by making our own pizzas.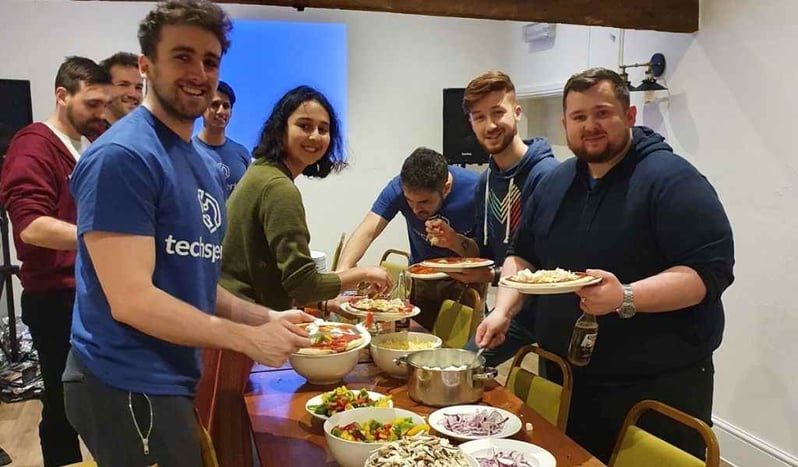 If you can't go to Italy, bring Italy to you!
Over the next two days, we held various workshops and interactive presentations where we got to put our brainpower together to come up with strategies, complete group tasks, and bond with Techspertians from different teams.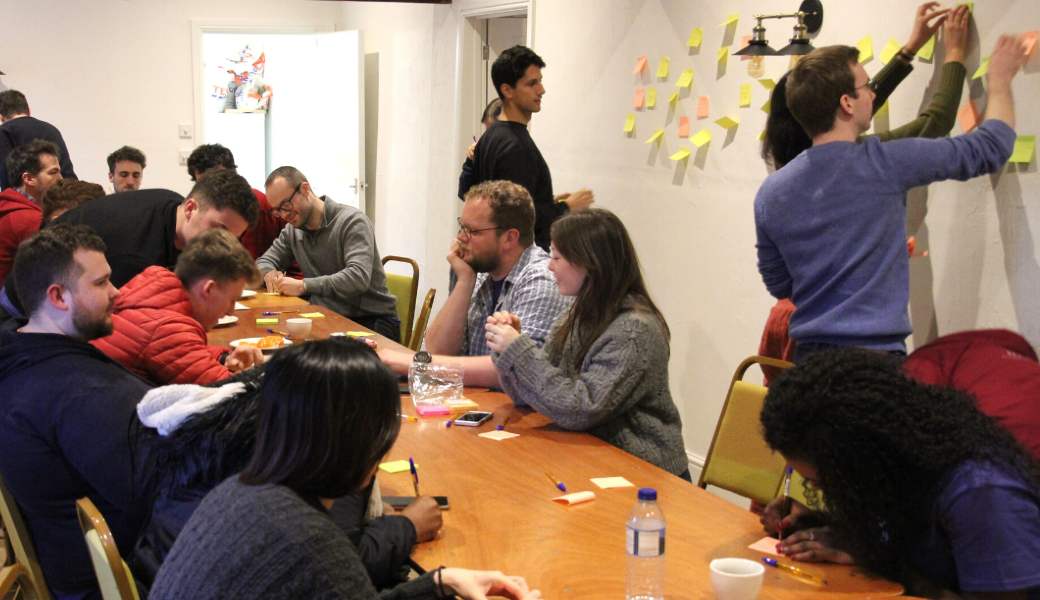 One of many brainstorming sessions.
But it wasn't all work and no play. We also had plenty of time for fun and relaxation between and after sessions. The estate featured a games room, sauna, gym and an indoor pool. And we always had something fun to do in the evenings, whether it be karaoke, wine tasting or games night. We also enjoyed some activities off-site including a visit to the beach and walks in North Devon's picturesque hills.
One thing that became quite apparent during the retreat is that Techspertians love to win! This drive to be the best comes in handy when you're working at a company that's on a mission to revolutionize the knowledge exchange landscape. Two of the most nail-biting fixtures included a water volley-ball match and cup stacking which saw the blue team clinch the title in the final round.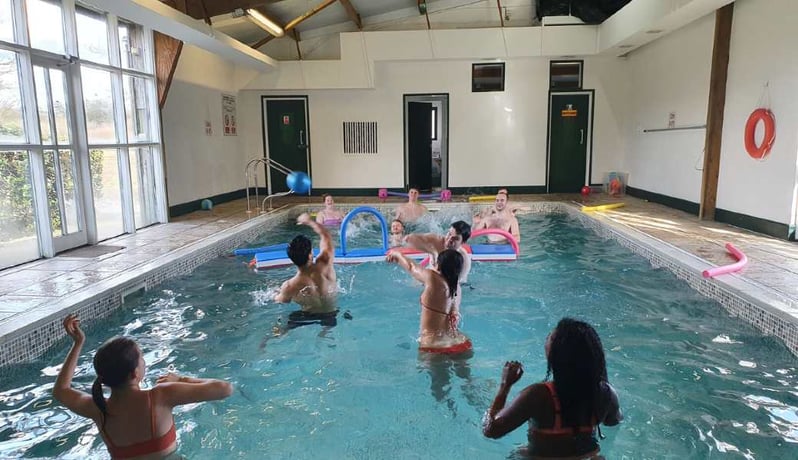 An intense game of water volleyball on one of the afternoons.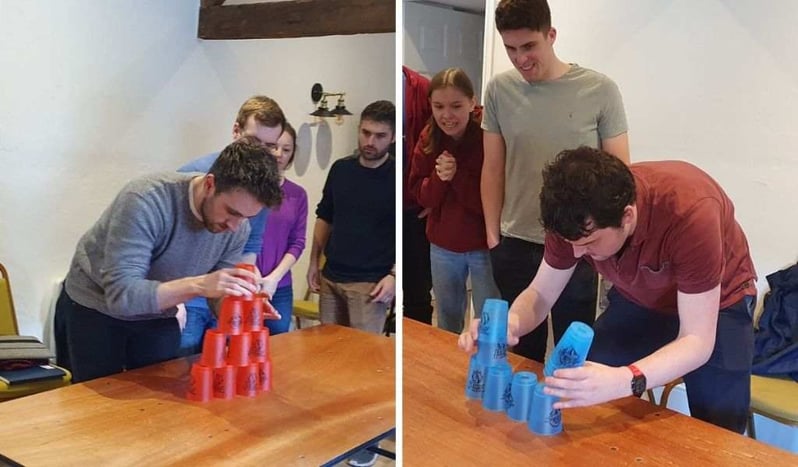 Who knew that stacking cups could get so competitive?
Although our initial travel itinerary didn't go according to plan, our 2020 retreat will definitely be one to remember. It gave us an opportunity to bond in a different environment, to capitalize on our collective brainpower and left us re-energized to continue achieving our 2020 goals!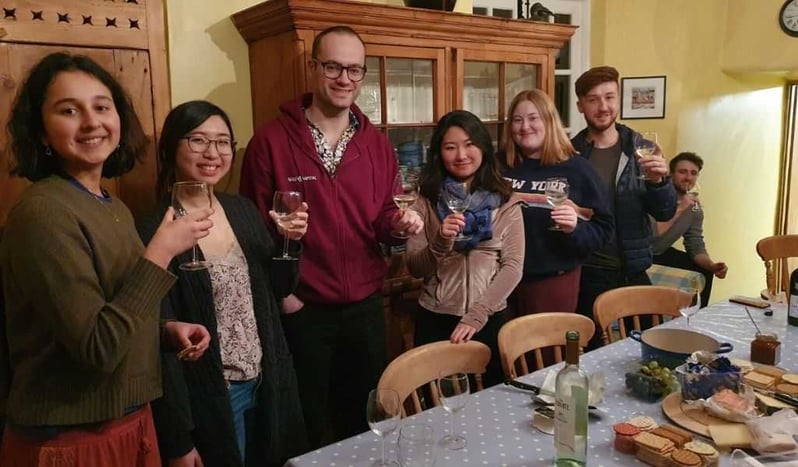 Cheers to a wonderful retreat!