Not too long ago, a life sciences consultancy asked us to connect them with cannabis industry experts to help them get a better understanding of the extraction process, how cannabis becomes consumable, the legality of cannabis-based medicines, where they're sold, future developments, reimbursements of these products and where they might become legal in the future. They needed to engage with experts across Europe and the US as these geographies are at different development stages when it comes to approved cannabis-based medicines.
With the medical cannabis market forecast to reach $62.6 billion in 2024, this got us thinking, what does the future hold for this market that's primed and ready for harvest? That's what we explore in this blog post.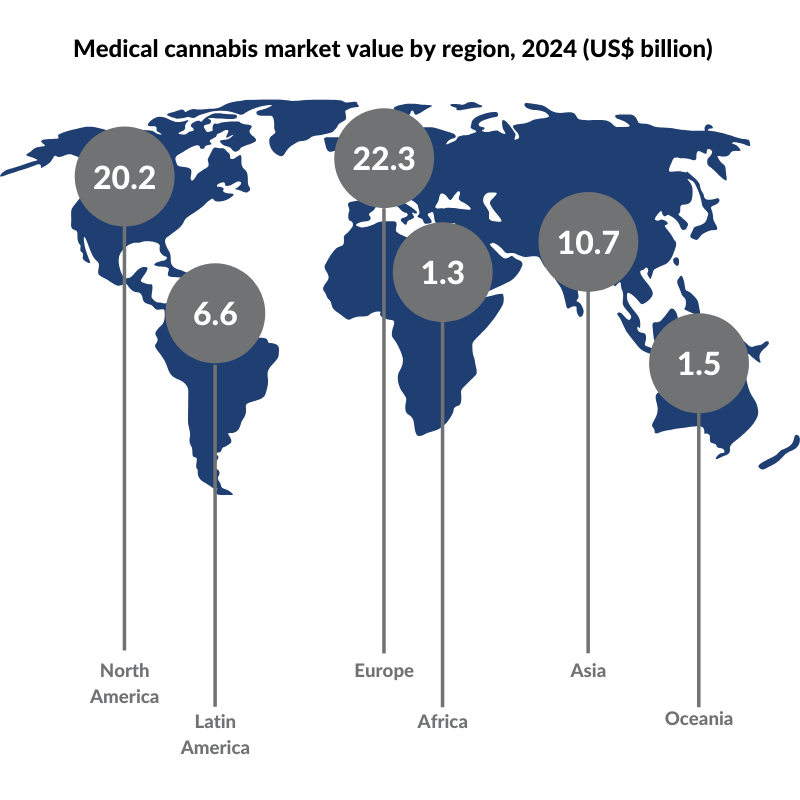 According to Prohibition Partners, a cannabis-focused strategy and research consultancy, the global medical cannabis market is forecast to grow to $62.6 billion by 2024.
There are a few misconceptions about cannabis so before we go any further let's break down the bud. Cannabis sativa L. is a plant that contains over 80 different naturally occurring compounds called "cannabinoids". The two major cannabinoids are tetrahydrocannabinol (THC) and cannabidiol (CBD). Cannabis can be broken down into four categories:
Medical cannabis: Plant-based or plant-derived cannabis products prescribed by a medical practitioner for the treatment of a specific condition or disease.
Pharmaceutical cannabis: Products formulated using pure cannabinoids (either plant extracts or synthetic) that have been through full clinical trials and licensed as a medicine.
Recreational cannabis: Any cannabis used for non-medical purposes (this typically has a higher concentration of THC – the chemical compound that provides the user with a "high").
CBD cannabis: Non-psychoactive products already available in many European markets used for "wellness purposes" such as sleep and anxiety.
Currently, the US Food and Drug Administration (FDA) has not approved the cannabis plant for any medical use. However, the agency has approved one cannabis-derived drug product: Epidiolex which contains a purified form of CBD, and three synthetic cannabis-related drug products: Marinol and Syndros which contain dronabinol (synthetic THC), and Cesamet which contains nabilone (a synthetic substance similar to THC). Epidiolex is used for the treatment of seizures associated with Lennox-Gastaut syndrome or Dravet syndrome, two rare and severe forms of epilepsy, dronabinol and nabilone are used to treat nausea and vomiting caused by cancer chemotherapy, and dronabinol is also used to treat loss of appetite and weight loss in people with HIV/AIDS. These approved drug products are only available with a prescription from a licensed healthcare provider.
Although Epidiolex, Marinol, Syndros, and Cesamet are the only FDA-approved drugs as it stands, as shown in the graph below, several companies are vying to have their products enter the market.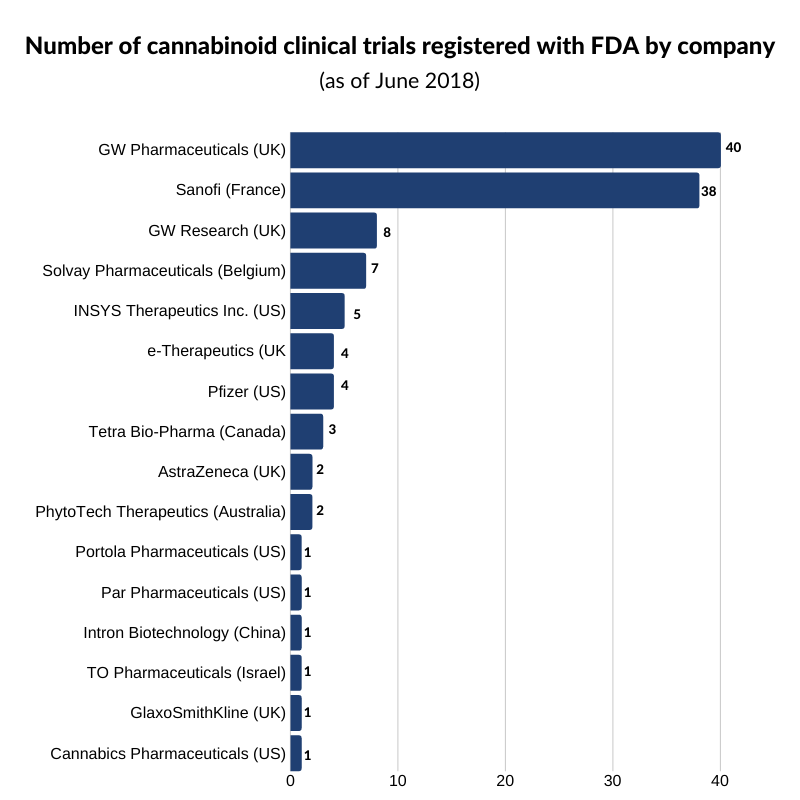 As of June 2018, GW Pharmaceuticals had the largest number of clinical trials registered with the FDA with 40 active trials underway. Source: Clinical Trials, Cannabis Business Executive.
The primary drivers of the global medical cannabis market's growth are legalization and the increasing adoption of cannabis-based medicines for treating conditions, such as Parkinson's disease, cancer, arthritis, and neurological disorders. The rising disease burden of chronic pain and growing need for effective pain management remedies on the global scale are also expected to amplify the demand and growth.
Countries that have legalized medical cannabis include Canada, Argentina, Germany, Israel, Italy, New Zealand, the Netherlands, Norway, Portugal, Peru, South Africa, Switzerland, Thailand, and Zimbabwe. In the US, medical cannabis is legal in 33 states, four territories, and the District of Columbia. Presently, North America enjoys the leading position as the world's largest legal cannabis market but this report suggests that Europe is set to take over the title in the next five years.
Turning our attention to the UK, the National Institute for Health and Care Excellence (NICE) recently approved cannabis-based medicines for the first time in England and Wales. NICE has approved Epidiolex for epilepsy, which we discussed earlier, and Sativex, a spray recommended for muscle spasms in multiple sclerosis (MS). Although the UK has made progress, it still lags behind its European counterparts. Germany, Italy, and the Netherlands are developing tenders for domestic cultivation licenses, and seeking to build a domestic industry with localized supply of medical cannabis while the UK, despite being the largest exporter of medical cannabis in the world, currently imports 100% of its cannabis-based medicines prescribed to patients. However, with the UK medical cannabis market projected to boom, change could be on the horizon.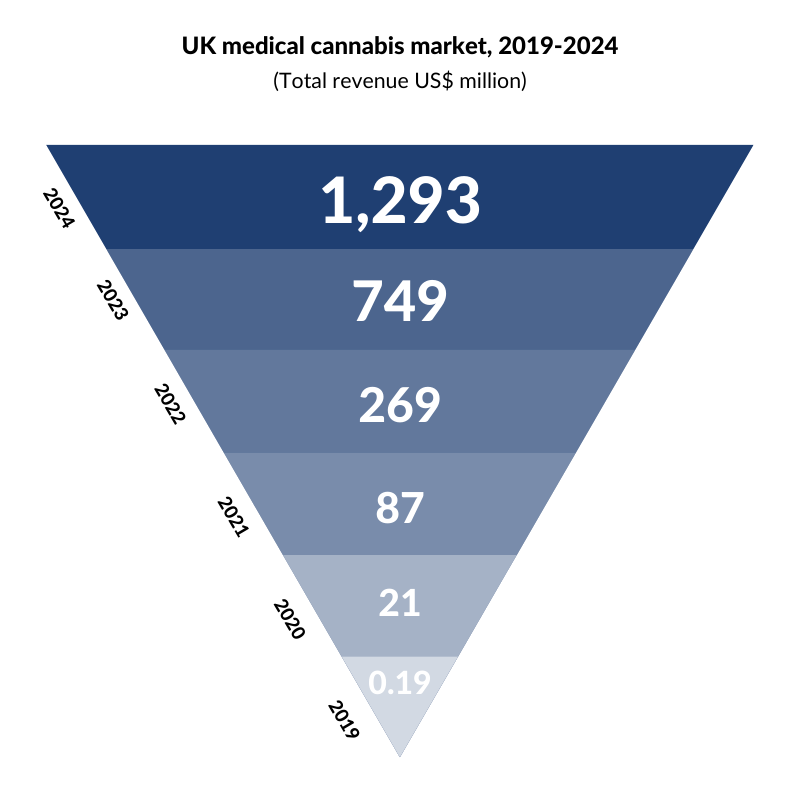 According to Prohibition Partners, the UK medical cannabis market is set to soar.
For years, medical cannabis has been surrounded by controversy but the increasing recognition that cannabis may have a range of legitimate medicinal benefits and therapeutic applications has contributed to its legalization in several countries. This acknowledgment and legalization have in turn cultivated a growing market. The seeds have been planted, now it's time to see how the medical cannabis market grows.
If you'd like to get more insight on cannabis-based medicines and this budding market, get in touch with us and we'll connect you with an expert.