Nonalcoholic steatohepatitis (NASH) is a complicated liver disease without any approved pharmacological treatments currently. Over the past few months, we've received many expert requests related to the condition. This comes as no surprise as millions of people suffer from the condition and several companies are vying to be the first to crack the untapped market which is estimated to cross US$ 20 billion by 2025.
The Liver Meeting® 2019, held by the American Association for the study of Liver Diseases (AASLD), recently took place in Boston, MA. Many companies used the meeting as an opportunity to discuss their NASH treatment candidates. Let's have a look at some of them below. But before we do that, here's a basic explanation of the condition:
NASH is liver inflammation and damage caused by an aggressive build-up of fat in the liver unrelated to alcoholism. It's the most severe form of a group of conditions called nonalcoholic fatty liver disease (NAFLD) and is commonly associated with obesity, diabetes, and high cholesterol. Over time, NASH can lead to liver cirrhosis or liver cancer and is set to overtake hepatitis C as the leading indication for liver transplantation worldwide.
With millions of people living with NASH and a market ripe for infiltration, the race is on to see who'll be the first to release an approved medicine. In no particular order, let's see who's in the running.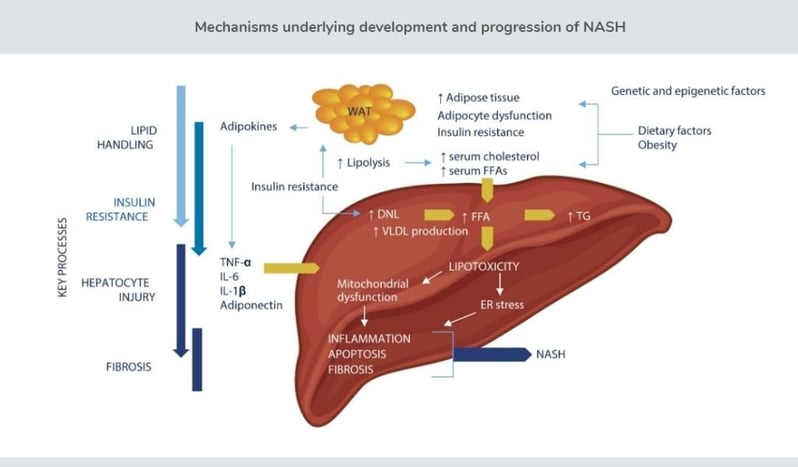 The critical pathophysiologic mechanisms underlying development and progression of NASH include (1) reduced ability to handle lipids, (2) increased insulin resistance, (3) injury to hepatocytes, and (4) development and progression of liver fibrosis in response to hepatocyte injury. Image via 89bio.
Tropifexor (LJN452) by Novartis
The aim of Novartis' FLIGHT-FXR study is to assess the impact of different doses of tropifexor (LJN452) – a highly potent non-bile acid FXR agonist – with respect to safety, tolerability, and efficacy in patients with biopsy-confirmed stage 2-3 fibrotic NASH. The interim analysis from the Phase 2b adaptive design study demonstrated that higher doses of tropifexor (140 Mu g and 200 Mu g) resulted in improvements in many key biomarkers of NASH, including hepatic fat fraction, alanine aminotransferase, and body weight, with favorable safety after 12 weeks of treatment in patients with moderate to severe fibrosis.
Read more about tropifexor (LJN452)
ALG-055009 by Aligos Therapeutics
Aligos Therapeutics' ALG-055009 is a thyroid hormone receptor beta (THR-β) agonist for NASH. THR-β agonists have shown the potential to reduce liver fat and inflammation, restore liver function and possibly reverse fibrosis in NASH patients. In a diet-induced obese murine model, ALG-055009 reduced cholesterol in a pronounced and sustained fashion after a single dose and demonstrated excellent bioavailability when administered orally. Algios expects to advance ALG-055009 into Phase 1 trials after completion of toxicology studies.
See Aligos' development pipeline.
PXL065 by Poxel
Poxel's PXL065 Phase 1a study evaluated the safety, tolerability, and pharmacokinetics of three doses of PXL065 (7.5, 22.5, 30 mg) compared to 45 mg Actos® (an oral diabetes medicine that helps control blood sugar levels). PXL065 is deuterium-stabilized R-pioglitazone and was observed to show a favorable safety and tolerability profile with no serious adverse events.
Poxel plans to initiate a Phase 2 trial for PXL065 for the treatment of NASH during the second quarter of 2020 in biopsy-proven NASH patients. The primary objective of this trial is to determine the optimal dose or doses to be tested in a Phase 3 registration trial.
BIO89-100 by 89bio
BIO89-100 is a specifically engineered glycoPEGylated analog of fibroblast growth factor 21 (FGF21) in clinical development for the treatment of NASH. Results from the Phase 1a clinical trial in healthy volunteers demonstrate that BIO89-100 was generally well tolerated at single doses up to 78 mg with a generally dose-proportional pharmacokinetic profile allowing for a weekly or every two-week dosing. BIO89-100 was also associated with robust and clinically significant improvements versus baseline in triglycerides, LDL-C, HDL-C and adiponectin in this study.
EC-18 by Enzychem Lifesciences Corporation
Enzychem Lifesciences has investigated whether EC-18 shows improvement in both NASH and fibrosis via accelerating resolution of inflammation. Results of their preclinical study show that EC-18, a novel immune resolution accelerator, has the potential to both prevent and treat symptoms before NASH progresses to liver fibrosis, which may enable earlier intervention, and improved management of patients.
See Enzychem Lifesciences clinical pipeline here.
EDP-305 by Enanta Pharmaceuticals
EDP-305 is a potent Farnesoid X Receptor (FXR) agonist and is currently in Phase 2 clinical studies for NASH and PBC (Primary Biliary Cholangitis). During the 12-week ARGON-1 Phase 2a study, Enanta EDP-305 was assessed for safety, tolerability, pharmacokinetics and efficacy in NASH. The results demonstrate that EDP-305 is a potent FXR agonist that reduces ALT and has exhibited strong target engagement in NASH subjects. Enanta's goal now is to initiate a 72-week Phase 2b study named ARGON-2 with histological endpoints in NASH patients, which they plan to initiate in the first half of calendar 2020.
See Enanta's EDP-305 study record detail.
Obeticholic acid treatment by Intercept Pharmaceuticals
REGENERATE is a Phase 3, randomized, double-blind, placebo-controlled, multicentre study assessing the safety and efficacy of obeticholic acid (OCA), a semi-synthetic bile acid analog, on clinical outcomes in patients with liver fibrosis due to NASH. The interim analysis shows that OCA improved multiple noninvasive markers of liver fibrosis in patients with NASH.
Read Intercept's REGENERATE study record detail.
FT-4101 by FORMA Therapeutics
FT-4101 is FORMA Therapeutics' selective fatty acid synthase (FASN) inhibitor in clinical development for the treatment of NASH. Through FASN inhibition, FT-4101 is expected to reduce the rate of new fat production, thereby systemically affecting lipid accumulation in the liver and potentially mitigating the cellular damage, inflammation, and fibrosis that characterizes the pathology of NASH. FT-4101 is being evaluated in a Phase 2 study to evaluate the safety, tolerability, pharmacokinetics/pharmacodynamics (PK/PD), and efficacy of FT-4101 in adult patients with NASH.
Read FORMA Therapeutics' FT-4101 study record detail.
MSDC-0602K by Cirius Therapeutics
MSDC-0602K, a second-generation, oral insulin sensitizer, is designed to selectively modulate the mitochondrial pyruvate carrier (MPC) while minimizing direct PPAR-gamma activation. Results from Cirius Therapeutics' Phase 2b EMMINENCE clinical trial of MSDC-0602K show the treatment be well-tolerated and demonstrated improvements in liver enzyme levels and markers of glycemic control, as well as dose-dependent trends for improvement in liver histology in NASH patients with or without Type 2 diabetes.
Learn more about MSDC-0602K's Clinical Development.
MGL-3196 by Madrigal Pharmaceuticals
Resmetirom (MGL-3196) is an orally administered, small-molecule, liver-directed, thyroid hormone receptor (THR) β-selective agonist. Madrigal's 36-week extension study evaluated resmetirom's effect on patients' liver fats, liver enzymes, and markers of fibrosis, a direct consequence of NASH. Data from the study demonstrates that resmetirom treatment resulted in statistically significant reduction in hepatic fat, statistically significant reduction and resolution of NASH on liver biopsy, lowering and normalizing elevated liver enzymes, and reductions of markers of fibrosis were also observed.
With the range of NASH treatment candidates out there, including the ones highlighted above and others, hopefully, one of these companies will be able to find a treatment soon for the silent disease that's affecting millions of people. This is definitely a race we're going to keep our eyes on.
If you're working on a project that needs insight from NASH experts, clinical, commercial or academic, or any others,
let us know
and we'll connect you with the world's best minds.