Discover how your business can use primary market research to develop a deeper understanding of cell and gene therapies and unlock their full potential for different use cases.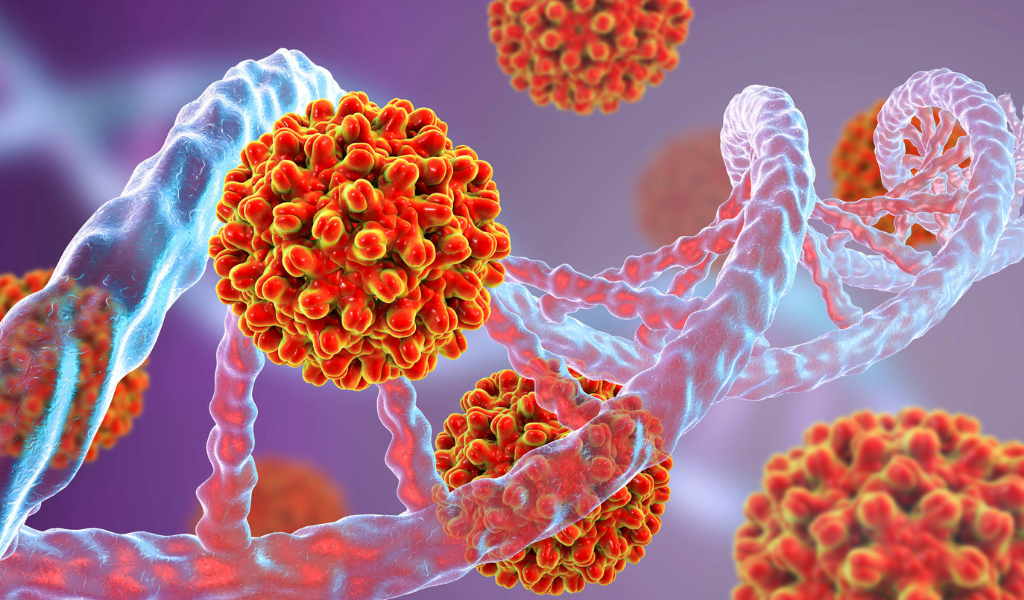 Cell and gene therapy (CGT) is an innovative, exciting segment in the pharmaceutical and biotech industry. It has the potential to transform how we cure serious diseases, such as cancer and genetic disorders, by targeting illness at a molecular level, looking to replace damaged or dysfunctional molecules.
The speed at which scientific breakthroughs are happening in the field are spurred not only by CGT's potential to save lives but also their economic potential. This Roland Berger study reports that the market is projected to grow rapidly, reaching sales forecasts of EUR 27.9 billion by 2026.
With accelerated movement in the space, companies are eager to unlock the potential of CGTs. We explore how you can leverage primary market research to tap into this market by discussing four use cases we've supported customers with:
Market opportunity assessment

Product development

Manufacturing

Research and development (R&D)
Use case one: Market opportunity assessment
Given its newness and promise, businesses interested in entering the CGT market need to develop a better understanding of the field to identify opportunities for growth.
A management consultancy conducting a market opportunity assessment on behalf of their pharmaceutical client needed to understand the current landscape of genome editing technology, including understanding current unmet needs as well as the CGT value chain.
They needed to engage with senior CMC (chemistry, manufacturing, and controls) Directors and BD&L (business development and licensing) Managers.
To gain this knowledge, we connected the customer with experts including:
An Associate Director of Genomic Medicine CMC at a global pharmaceutical company who leads process development, has a full understanding of upstream and downstream CMC activities, and has been published several times.

Senior Director of Business Development at a biotechnology company who is the lead acquisition for licensing and partnership decisions for cell and gene therapies and has been involved in clinical trials for cell cloning and CRISPR genome editing.
The customer used the insights gained via the experts our AI sourced for them to develop a market opportunity assessment including fresh perspectives and strategic recommendations on what's in research and development today, upcoming technologies, how genome editing technologies are licensed, and how partnership deals are structured and valued.
This enabled their pharma client to develop an in-depth understanding of the genome editing technology landscape to support their strategic decision-making for this project.
Use case two: Product development
With scientific breakthroughs occurring rapidly, competition is fierce when it comes to CGT product development. Engaging experts with on the ground knowledge is an effective way of staying ahead.
A professional services firm conducting a study on a potential new cell therapy product for their end client asked us to connect them with nurses, lab directors, and pharmacy directors to help inform their findings and recommendations.
The experts needed to:
Have knowledge of and experience with allogeneic hematopoietic stem cell transplantation (HCT) and cryopreserved cell therapies

Be responsible for various functions, such as:

Ordering and managing lab supplies

Receipt and handling of cell therapies

Preparation of cell therapies for transplant

Administering cell therapies to patients

Have participated in a clinical trial study for allogeneic HCT in the last 12 months
Because our AI is trained to identify experts who match our customers' criteria with pinpoint accuracy, we connected the customer with the exact specialists they needed, including:
A Research Nurse Specialist and CAR-T coordinator specializing in cell therapy and toxicity, and stem cell transplant research who conducts clinical trials with specialties in cell therapies, GVHD, and post stem cell transplant care.

A Director of Pharmacy Services who oversees pharmacy operations, clinical services, formulary management, payer and health plan contracting, and more at one of the largest academic integrated delivery networks in the US.
By engaging with these experts, the customer formulated an actionable strategy and recommendations, helping their end client with the development of a new cell therapy product.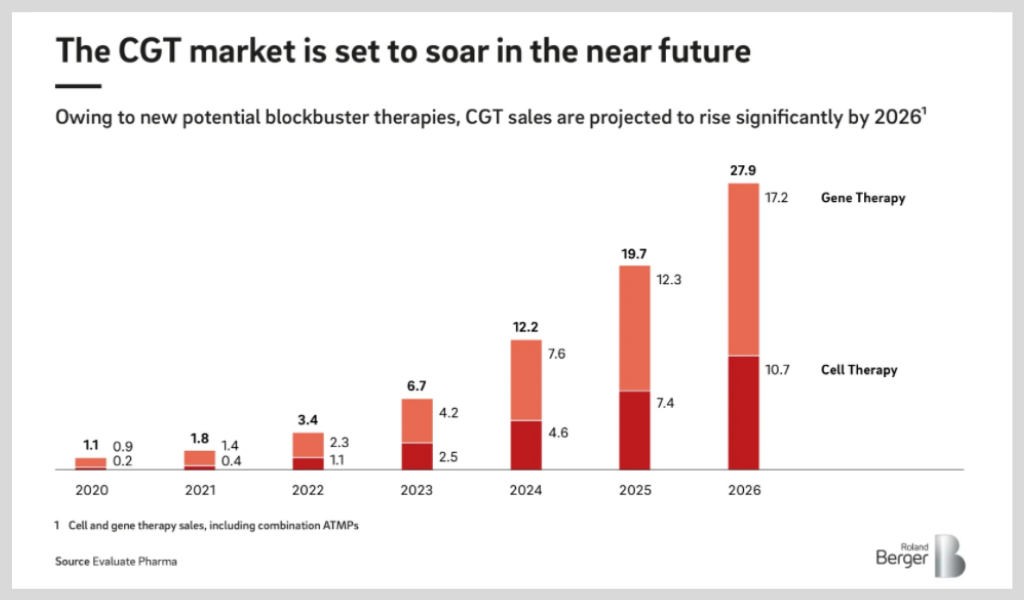 With its projected market growth, businesses are racing to get product development right. Image via Roland Berger.
Use case three: Manufacturing
Manufacturing CGTs is one of the biggest challenges in the field, with companies having to make multiple decisions, such as deciding if they should keep manufacturing in-house or outsource.
A life sciences consultancy was conducting a study on supply and demand for cell therapy manufacturing on behalf of their client and needed to gain insights from industry experts to understand how businesses choose outsourcing partners for cell therapy manufacturing.
The experts needed to:
Outsource the manufacturing of their cell therapy products to contract development and manufacturing organizations (CDMOs)

Have a role in evaluating or selecting CDMOs for their organization for cell or gene therapy process development or production
We connected the customer with relevant subject matter experts, enabling them to provide their end client with actionable recommendations.
The customer engaged with experts such as:
A Director of Cell Therapy Manufacturing experienced in training and supervising scientists as well as group lead teams in the remit of cell manufacturing, having worked in the manufacturing of over 12 cell therapies.

A Senior Vice President of Biologics Cell and Gene Therapy at a global biopharma company experienced in leading research and clinical cell manufacturing from early-stage product pipelines and leading technical teams.
Use case four: Research and development (R&D)
The unique development challenges for CGTs require companies to explore and create new approaches to the drug-development process to get an edge on their competitors. By engaging with experts on the front line, companies can get relevant, up-to-date insights to inform their strategic decision-making.
A strategy consulting firm supporting a pharmaceutical client on a market research project needed to understand how viral vectors and non-viral vectors are used in certain cell or gene therapies. As such, they asked us to find and facilitate qualitative interviews with CMC and R&D experts.
Following the expert engagements, the customer gained the insights they needed to develop the recommendations included in the R&D strategy they prepared for the end client.
The specialists they conducted qualitative interviews with included:
A Director of Cell & Gene Therapy and CMC Leader at a multinational pharmaceutical company who's responsible for leading multiple CMC Teams end-to-end, spanning from pre-clinical to post-BLA/MAA Approval, including Life Cycle Management.

A Head of Clinical Translation at a target discovery and gene editing company experienced in R&D oversight, and R&D activities to accomplish clinical product development in a fast and cost-effective manner.
The CGT market shows no signs of slowing down and to stay ahead of the curve, forward-leading companies are using primary market research to unlock the potential of CGTs, whether it's for market opportunity assessments, product development, manufacturing, or R&D.
Get in touch with us today to unlock the potential of cell and gene therapies by engaging with subject matter experts.