This year Techspert launched an annual summer internship programme to encourage young people to pursue a career in STEM. We speak with Tara - a former oil trader who decided to have a career switch.
As part of our summer internship programme, we've welcomed a wide range of people into our offices for some hands-on experience at a rapidly growing tech start-up. In this post, Tara tells us about her experience...
Hi, I'm Tara!
Unlike the other interns who are students or recent graduates, I graduated from the University of Oxford six years ago with a degree in Economics and Management. After university, I worked as an oil trader for one of the oil majors. I decided I needed a career change, so I quit my job, traveled for a few months, and signed up for a coding boot camp to aid me on my quest to become a developer. A friend told me about the techspert.io internship and encouraged me to apply for it instead of doing the boot camp. I thought it was a long shot as I had no technical experience at the time but I decided to apply and I got accepted. Although this is a technical internship, the program isn't limited to those who have a tech background. If you have a passion for technology and a desire to learn, you'll be considered.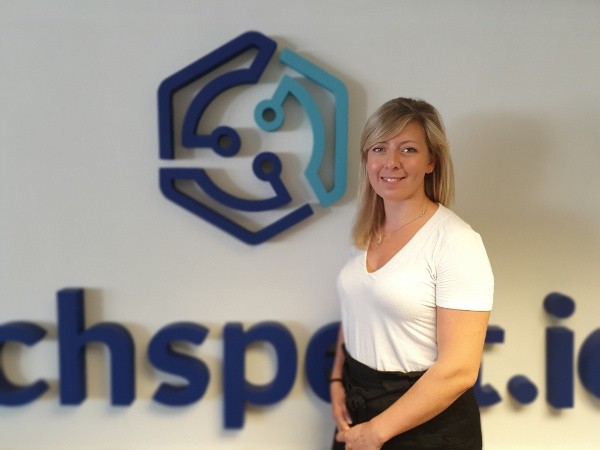 This is me
Diving in headfirst
Given my non-tech background, I started from ground zero. To help me prepare for the internship I did some basic online coding courses and reading but I learn best by doing and that's what this internship is all about. I got stuck in from day one and never looked back. I knew it would be a steep learning curve; I was coming across terms and technologies I'd never heard of before. Fortunately, the team is very friendly and knowledgeable and offered help and support whenever I needed it.
Coming from a trading floor that is very noisy, the environment here is much calmer (in all honesty, most environments are probably calmer than a trading floor). The company is on a mission to disrupt the expert network industry and doing this requires a great deal of focus, everybody on the team pulling their weight, and setting and reaching ambitious goals. Although high productivity is encouraged, you're not worked to the bone and the atmosphere is relaxed. As a woman starting out in the tech field, it feels good to work at a company that has an inclusive culture. There's a lot I've enjoyed about being a Techspertian but my favorite thing is how much I've learned. More on that below.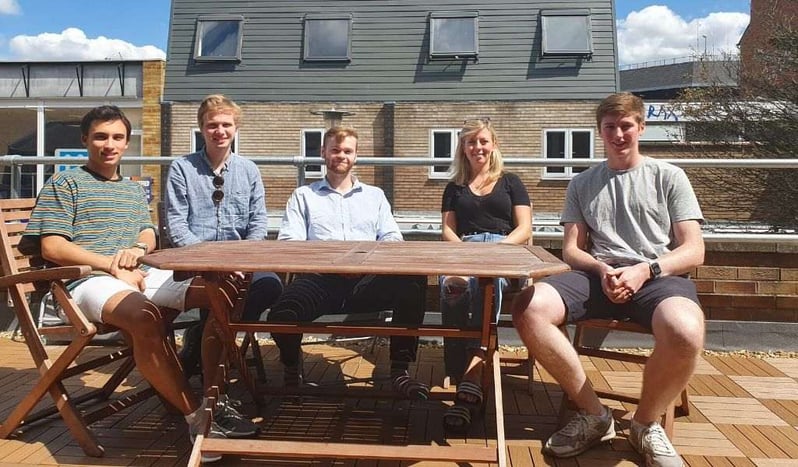 Basking in the sun with my fellow interns. From left to right: Marcos, Preben, Callum, me, and Rory.
My first coding experience
At the start of the internship, all the interns are given a project to complete. Put simply, I'm developing an architecture for some of the existing software we use to make sure that it's always available and can handle increased traffic while our AI technology is finding the world's best experts. Once complete, this will make the system more robust, prevent failures and make the software more scalable. To do this I'm using Docker and Kubernetes, an open-source container-orchestration system for automating application deployment, scaling, and management. We deploy on Amazon Web Services (AWS) – an on-demand cloud computing platform – so I've had to learn my way around that too.
Before starting my internship I had never programmed before, never heard of Kubernetes, Docker, or Go (the language they are written in), and never thought I'd be able to learn and do so much in such a short space of time. Interns are treated like everyone else on the team, we're trusted and given responsibility. I found this daunting at first but I've been given the time and space to learn as I go along and I've really enjoyed the process. Diving straight into applying the programming that I've been learning, and working through issues and bugs to implement what I've written has been much more effective than taking a course.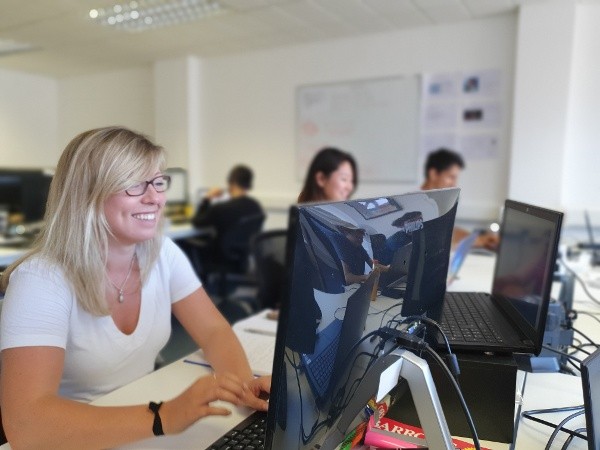 Someone must have said something very funny at this point.
Go for it!
If you're considering starting a career in tech, I'd definitely recommend doing an internship at Techspert. You get to learn and gain experience at the same time, you get to contribute towards real-world AI technology, and you get to work with a great bunch of people!
Whether you're looking for a career change like Tara or you're a student seeking experience,

pop us a message

,

we'd love to hear from you!