We speak to Rory Highnam, a second-year engineering student at the University of Cambridge, who shares his experience interning with us.
This year Techspert launched an annual summer internship program to encourage young people to pursue a career in STEM. In this blog post, Rory tells us all about his experience as an intern at Techspert!
Hi, I'm Rory!
When I heard about the Techspert internship, I knew I had to apply. I hope to specialize in Information Engineering and interning here has given me an idea of what it's like to work as a data scientist at a tech company. Prior to joining the team, I had a good understanding of the theory behind various software development techniques, such as natural language processing (NLP) and web indexing, but no real-world knowledge on how these techniques are used by businesses. Now I have some practical insight to complement my theoretical understanding.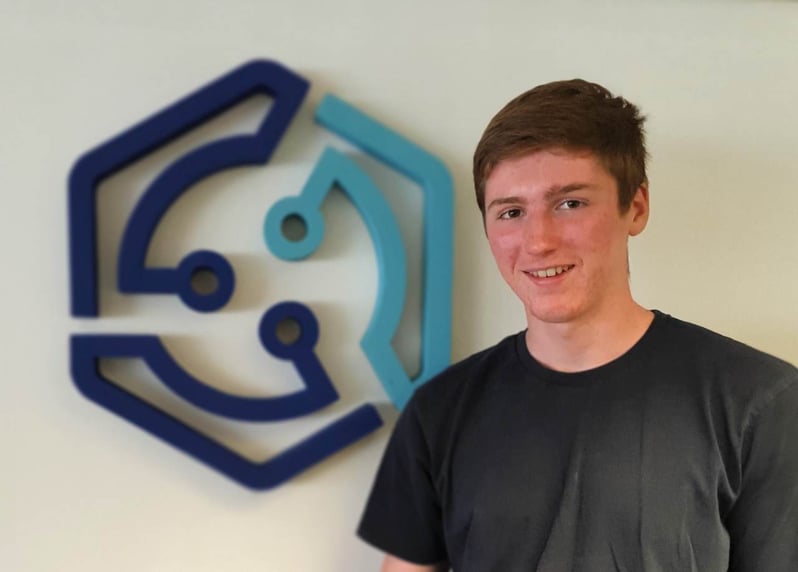 I figured I should put a face to the name.
Work hard, play hard
As my first internship experience, the Techspert team has set the bar high. The company is vibrant, and the environment is friendly and relaxed. Having said that, everybody works incredibly hard. Because the team is small and has ambitious goals, there's no room for slacking. Being surrounded by smart, driven people encourages you to perform at your best. As part of the tech team, I work with a combination of data scientists and machine-learning engineers to develop the AI technology used by Techspert to find the world's leading experts and connect them with organizations who need their expertise.
Cheers! Enjoying a drink with some of my colleagues.
Non-stop learning
It's remarkable how much I've learned in such a short amount of time. If I had to narrow it down, I'd say the top skills I've developed are programming in Linux, coding in Python, web indexing, machine learning, and NLP. One of my favorite things about this internship is the freedom you're given to investigate solutions to any obstacles you may face; it's empowering. As much as the interns are encouraged to work independently, we also receive support from other members in the team and collaboration is integral to the company culture. It's also been enlightening to see how code written by different people is integrated into one product. When we do software projects at college, we either work on them individually or with a partner.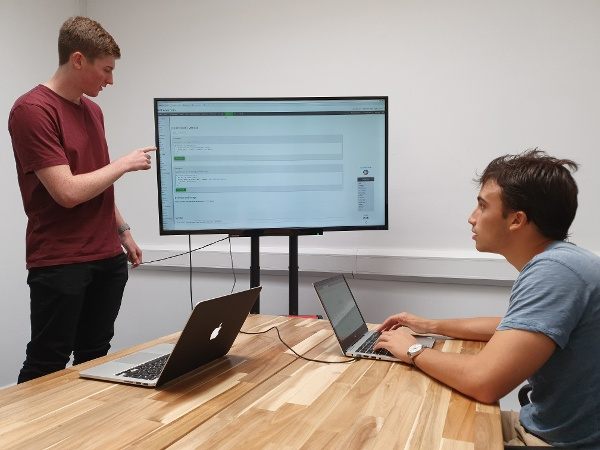 Doing some brainstorming with Marcos, a fellow intern.
Techspert puts the 't' in team
As a start-up, the Techspert team is relatively small so it's vital that everyone plays their part, even the interns. It's easy to see how everyone's input impacts the company's performance and how we all contribute towards the bigger picture. Some may find this daunting as an intern, but I relish the challenge and responsibility. It's encouraging to know that I'm valued and that the work I'm producing is integrated into Techspert's AI technology.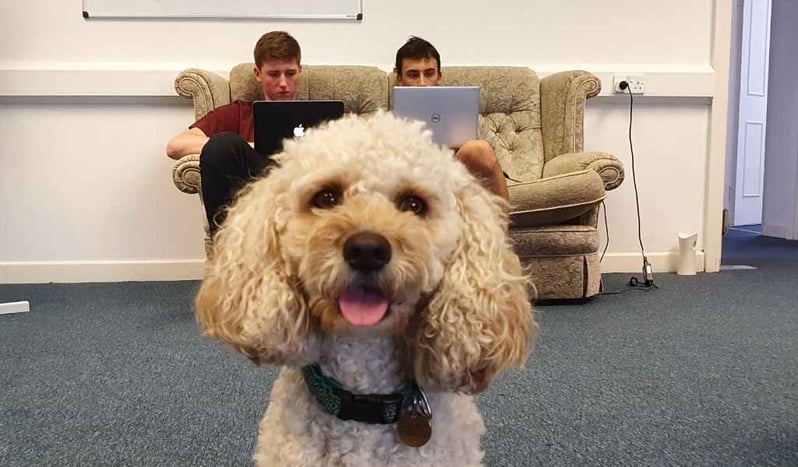 Marcos and me hard at work photobombed by Mabel, a colleague's dog.
Apply, apply, apply!
If you're considering an internship at Techspert, apply. The environment is friendly and sociable but also pushes you to develop your skills. It's great to have some practical experience to support the theory I'm learning at college and to see how I can apply my engineering degree once I graduate.


If you have a passion for technology, for solving the bottlenecks to innovation that we face as a society, and an eagerness to learn, we'd love to hear from you.