Chemotherapy, targeted therapies, surgery, and radiation have been the pillars of cancer treatment for years but they're having to make way for the next generation – immunotherapy, with CAR T-cell therapy leading the charge. Activity in the field suggests that the CAR T-cell therapy revolution will continue to steam ahead and several life sciences organizations want to ensure that they remain at the forefront of this movement. To do this, many are turning to experts for primary insight.
Over the past few months, we've had an increasing number of customers wishing to engage with experts to learn more about this rapidly emerging approach, and thanks to our AI search technology we've been able to find and match them with global leaders in CAR T-cell therapy. Powered by machine learning, our AI technology scours publicly available online data to find experts who have the expertise our customers are after, no matter how niche their specialisms are. Because we're not limited to a fixed database of specialists and our technology works 24/7 to find the best minds out there, we're able to find experts others can't. But more on our technology and how it works later.
In this blog post, we explore the cutting-edge CAR T-cell therapy approach and discuss some projects we've helped customers with.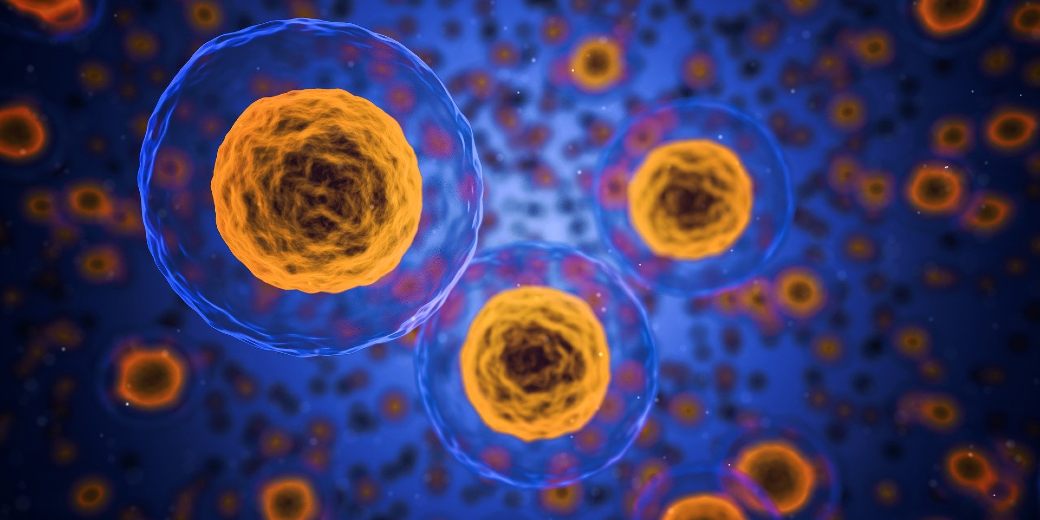 Understanding immunotherapy
New immunotherapy treatments are being tested and approved at an accelerated pace. Simply put, immunotherapy is a type of cancer treatment that helps your immune system fight cancer. It may work by stopping or slowing the growth of cancer cells, stopping cancer from spreading to other parts of the body, and helping the immune system work better at destroying cancer cells. There are different types of immunotherapies to treat cancer including checkpoint inhibitors, monoclonal antibodies, and adoptive cell therapy (ACT). We'll be zooming in on the latter.
ACT is a burgeoning immunotherapy approach that involves collecting and using a patient's own immune cells to treat their cancer. There are several types of ACT including tumor-infiltrating lymphocyte (TIL) therapy, engineered T-cell receptor (TCR) therapy, chimeric antigen receptor (CAR) T-cell therapy, and natural killer (NK) cell therapy. So far, CAR T-cell therapy has advanced the furthest in clinical development and is the therapy we focus on in this post.
Let's take a closer look at CAR T-cell therapy.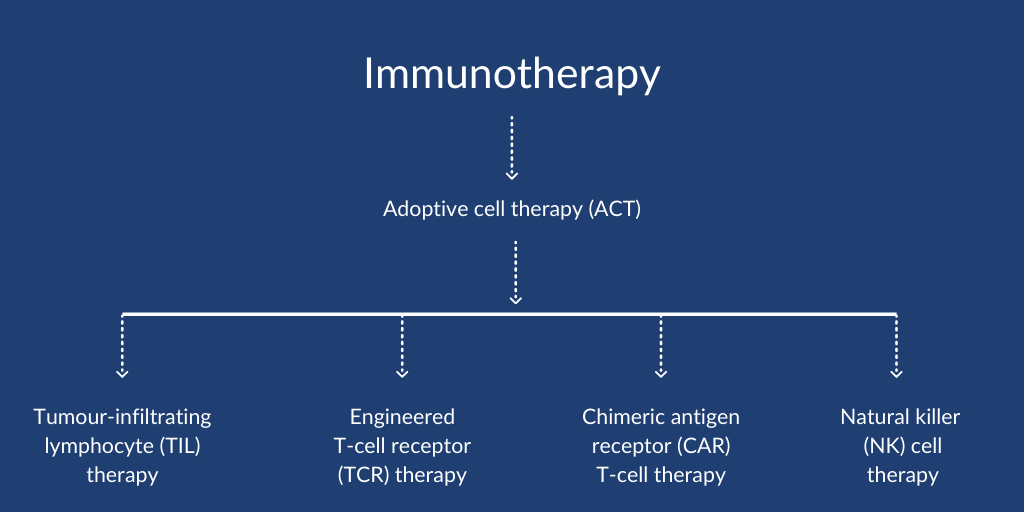 A basic diagram showing how CAR T-cell therapy fits under the immunotherapy umbrella.
The CAR T-cell therapy landscape
CAR T-cell therapy is customized and manufactured for each individual patient. It works by taking T-cells (a type of immune system cell) from a patient's blood, inserting the CAR gene (a special receptor that binds to a certain protein on the patient's cancer cells) into the T-cells to make CAR T-cells, growing large numbers of these new CAR T-cells in the laboratory and infusing these genetically changed cells which can now recognize and attack cancer cells back into the patient. One of the extraordinary things about this treatment is that it's a "living therapy". Because CAR T-cells go on to multiply in the body and continue fighting cancer in the patient, they typically only have to be injected once.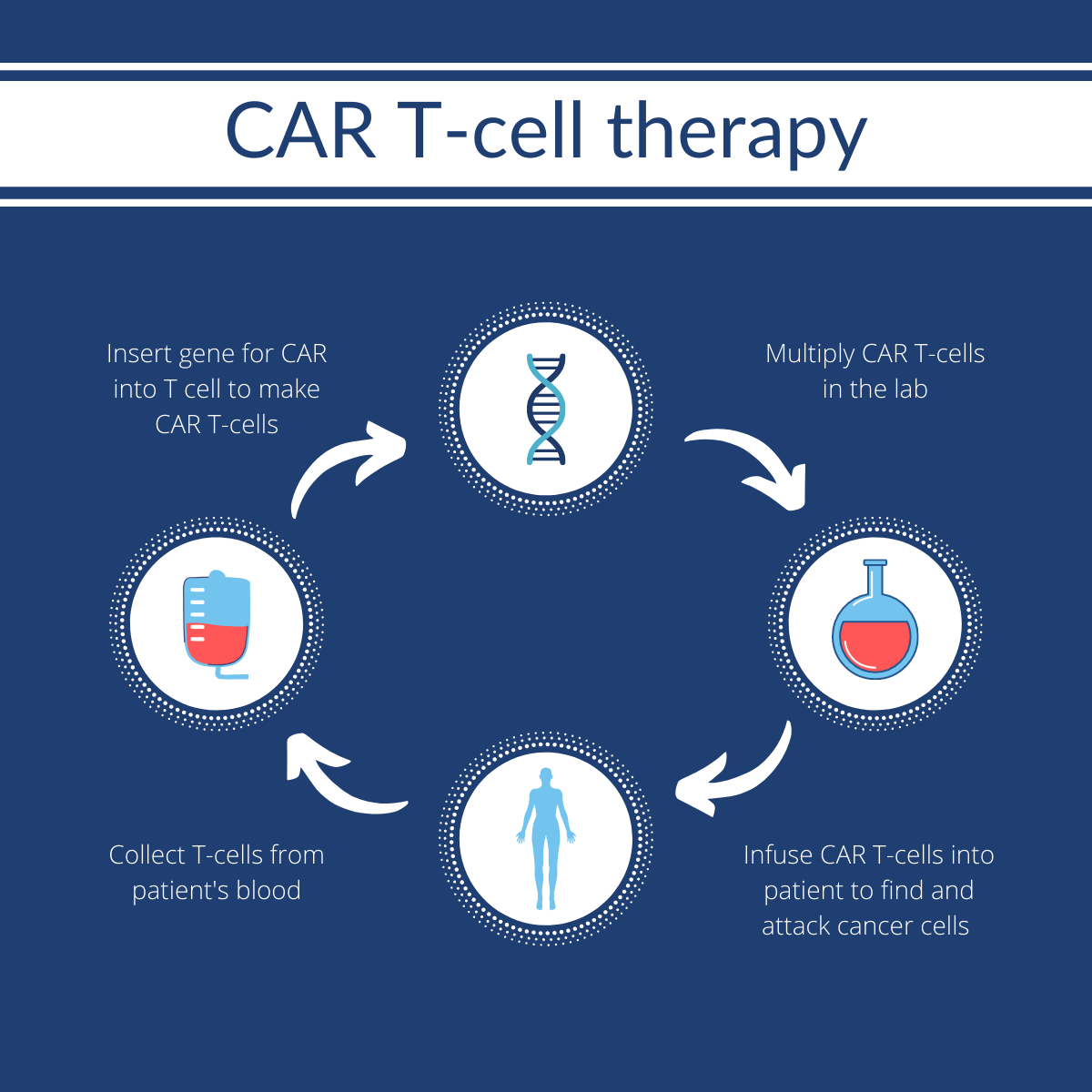 A simplified illustration of how CAR T-cell therapy works.
There are currently two CAR T-cell therapy treatments approved by the Food and Drug Administration (FDA), one for the treatment of children with acute lymphoblastic leukemia (ALL) and the other for adults with diffuse large B-cell lymphoma (DLBCL), the most common subtype of non-Hodgkin lymphoma (NHL). Both treatments were approved following the results of their successful studies. Results from an early clinical trial showed that a type of CAR T-cell therapy can stop multiple myeloma (MM). Now we wait and see if an FDA-approved CAR T-cell therapy for MM may be on the horizon.
Because CAR T-cell therapy is a new, powerful approach, organizations are increasingly wanting to get their foot in the door, and this is where primary insight from experts is invaluable.
Techspert CAR T-cell therapy success stories
Now that we have a basic understanding of immunotherapy and CAR T-cell therapy, let's look at a few projects where we used our AI technology to match organizations with experts for primary insight.
First up, a management consulting company asked us to connect them with CAR T-cell therapy hematologists or oncologists across the UK, US, France, and Germany. The consultancy requested experts who could share insights on clinical implementation and commercialization of advanced cell therapies and/or CAR-based therapies to help them gain insight for their go-to-market strategy plan for allogeneic-based CAR T-cell therapies. They specifically needed to engage with physicians who are decision-makers in implementing high-cost innovative cell therapies and have previously served in a leadership role in CAR T-cell therapy or advanced cell therapy companies.
We mentioned earlier that our AI technology scours publicly available online data to find experts, but it doesn't roam around aimlessly. Our tech team has trained it to keep precision at the forefront when searching for specialists. For instance, we use natural language processing (NLP) to evaluate how suitable an expert might be for a project based on content that they've published (such as academic papers, journal articles, and research papers). Among many other benefits, NLP ensures that our customers always engage with experts who are active in their fields and/or have been involved in reputable studies relevant to the topic the customer is interested in learning more about. In this case, it was CAR T-cell therapy.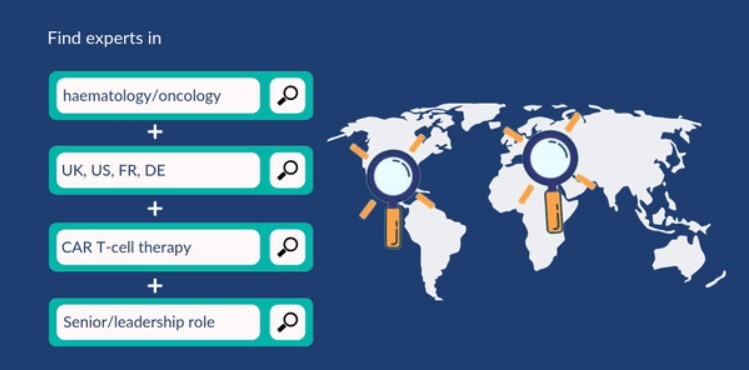 By specifying what criteria to look for, our AI technology searches the internet to find precision-matched experts for our customers.
Filling quotas for 30+ experts like the project below isn't a challenge for our AI. Unlike other expert networks which require professionals to register beforehand to join their database, our AI technology is constantly finding new specialists ensuring that we're never limited to a pool of experts. This continuous search also means that our technology finds specialists with the most recent and relevant experience. This was an important criterion for our customer below.
A consultancy needed insight from 30 US-based oncologists experienced in using CAR T-cell therapy to treat MM and NHL. They requested to connect with eight MM key opinion leaders (KOLs) who have written guidelines for MM, participated in a significant number of clinical trials, authored published papers on MM, spoken at conferences, and saw more than 200 MM patients monthly. They also requested to liaise with KOLs experienced in treating NHL. From this group of NHL experts, they needed to connect with 11 oncologists who specialized in aggressive lymphomas and 11 specialized in indolent lymphomas.
Along with precision and volume, one of the most powerful features of our search technology is its speed. It works in real-time to find, qualify, and segment experts 24/7, across different time zones. For this next organization, our technology was able to find the specified experts and trigger the engagement with the customer within 24 hours of receiving the request. This is especially beneficial for our customers who often work on tight deadlines and need quick turnaround times. This consultancy needed US-based hematologists or oncologists who treat relapsed or refractory diffuse large B-cell lymphoma (R/R DLBCL) with CAR T-cell therapy in an outpatient setting. They were particularly interested in gaining an understanding of how CAR T-cell therapy and the services differ from inpatient settings.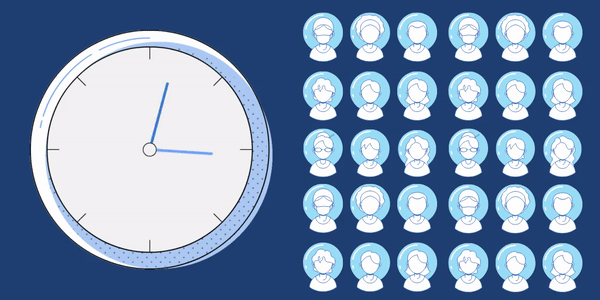 Our technology finds, qualifies and segments experts across different time zones, 24/7.
At the rapid rate which the CAR T-cell therapy landscape is developing, it comes as no surprise to us that organizations are increasingly turning to experts for primary insight on this exciting cancer treatment. We'll be keeping a close eye on this one to see how it evolves.
If you're working on a CAR T-cell therapy project and need to engage an expert, pop us a message. If you're an expert who can share insight on this topic, we'd love to hear from you too!