Discover the advancements techspert.io has made to its Knowledge Graph to map the world's knowledge landscape and deliver primary insights with increased speed, precision, and coverage.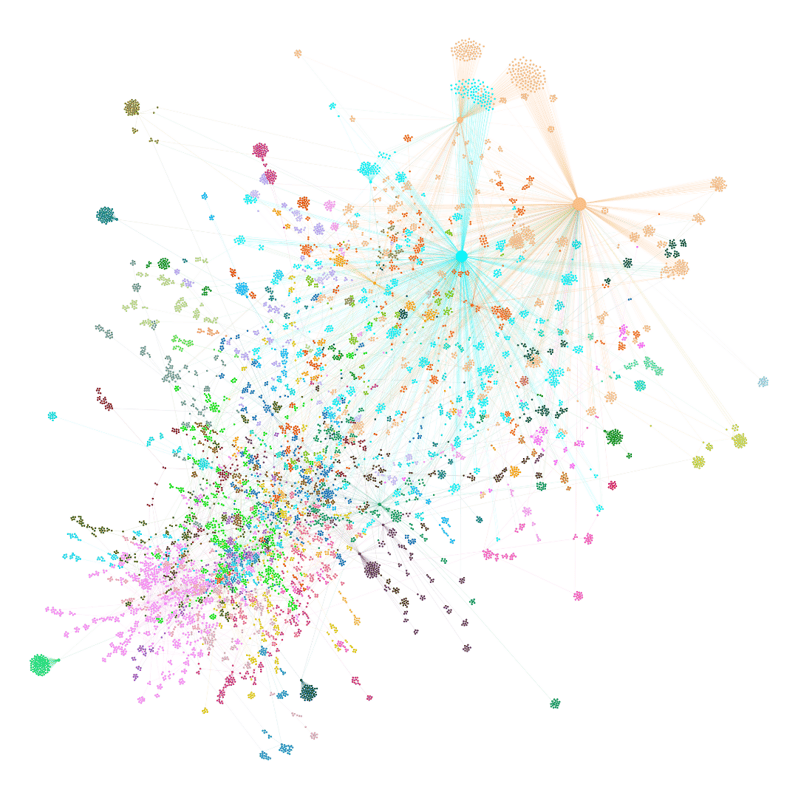 A subset of Techspert's Knowledge Graph depicting the relationships between concepts whereby clusters of nodes represent related diseases, syndromes, and disorders.
In 2020, we launched our Knowledge Graph which gives us a global, real-time visualization of the knowledge landscape, enabling us to rapidly identify the thought leaders in any given field and connect them with the businesses who seek their knowledge.
Since its inception, we've been making improvements to increase its power and capabilities to uncover the world's leading experts and deliver high-quality primary insights with enhanced accuracy, speed, and coverage. Thus, enabling our customers to make smarter, more informed expert-backed decisions.
Powered by AI and machine learning techniques, our Knowledge Graph helps explore the links between experts, institutions, online media, and semantic concepts, enabling us to see which people have the greatest influence in their field and to identify trends and growth areas over time.
And with access to 2.5 billion high-quality expert profiles, it allows us to accurately map the knowledge landscape across all disciplines, ensuring far higher precision and breadth of search than any of our competitors.
Before we go into further detail on our Knowledge Graph, let's explore the fundamentals.
Knowledge graphs: the basics
Knowledge graphs are general knowledge bases intended to represent information through describing relationships between entities objects, and/or concepts. They comprise a collection of interlinked objects (also known as nodes or vertices), which can be anything relevant to the domain of interest, for example, cars, species, or sports teams. These objects are connected via edges or links which represent a specific relation the connected objects have to one another.
For instance, if we were to visualize how many times tennis player, Serena Williams has won Grand Slam singles titles at the Australian, French, and US Opens and Wimbledon, and the years she won them in, it might look something like this:
A knowledge graph representation of Serena Williams' Grand Slam singles titles
If we wanted to unearth further detail, we could add links to each "year" node detailing who she played in the finals, which players she had to beat to get to the finals, and so on.
With knowledge graphs, the opportunities to uncover data to gain insights from it and visualize it in a way that's easy to understand are endless!
From Serena Williams to energy and industrials, let's look at how we use knowledge graphs to support our customers.
Knowledge graphs as powerful knowledge discovery tools
If a customer in the energy and industrials sector is conducting market research on extreme ultraviolet lithography (also known as EUV or EUVL), our Knowledge Graph enables us to find experts specializing in the topic and relevant experts linked to it, such as those specializing in semiconductors, high-volume manufacturing, and optical proximity correction.
Representing the above example in our Knowledge Graph would look something like this: extreme ultraviolet lithography - related_to → semiconductors (a so-called "triple"; two objects and their associated relational edge).
Here, related_to is a specific edge identifying semiconductors, high-volume manufacturing, and optical proximity correction as similar concepts to extreme ultraviolet lithography (EUL), specifically as a subset of the latter.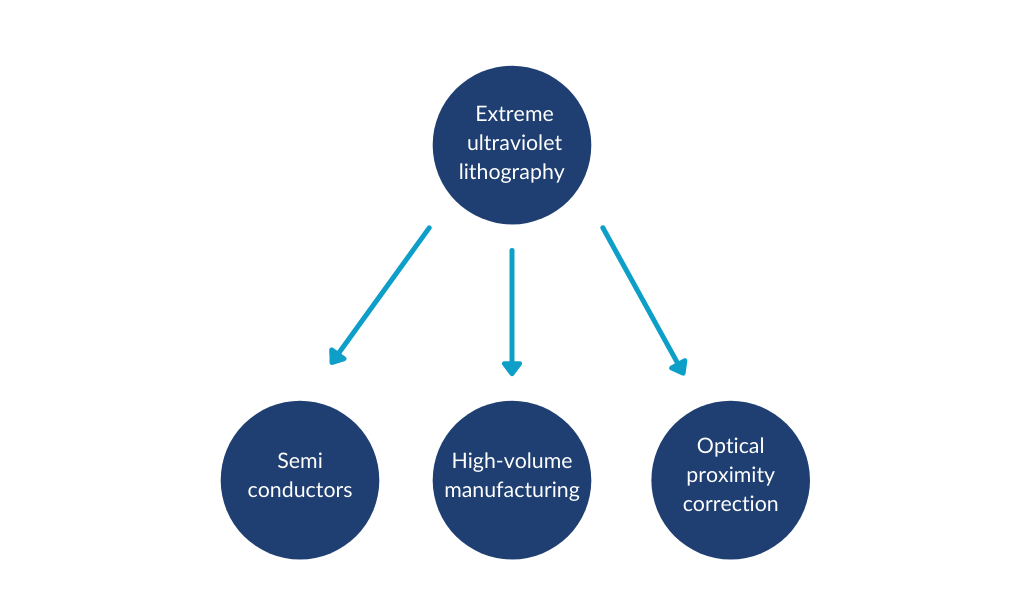 A knowledge graph visualizing the relationship between extreme ultraviolet lithography, semiconductors, high-volume manufacturing, and optical proximity correction.
Since in this example optimal proximity correction (OPC) is known to be a hyponym (subordinate category) of EUL, it can be inferred through the graph that experts who declare EUL as a specialism would likely also have knowledge of OPC, even though this information is not explicitly provided by the expert.
Through these sorts of inferences, knowledge graphs can be powerful knowledge discovery tools, and of particular utility in surmising what topics an expert may have competence in.
And by mapping knowledge, we gain greater insight into who holds what knowledge and can connect these knowledge holders with businesses who seek their expertise. This is how.
Mapping knowledge: the key to transforming primary market research
The creation and implementation of our Knowledge Graph allows us to outperform other conventional expert networks and panel providers by providing cutting-edge technology to assist in automatically boosting the scope and accuracy of customer requests. By using data derived from expert sources we can map out information in a structured way which allows our customers to supercharge their expert needs.
This is useful both in cases where customers are aiming for a broad field but perhaps don't have a clear idea of what sort of experts might fit their general query criteria, and when they are targeting a specific niche area, but don't know what other sorts of topics are relevant.
Through this technology, we automate away much of the difficulty in rapidly identifying the domain of knowledge applicable to the required experts, allowing our service to operate on far faster timescales. Combined with our AI-driven search technology, we can deliver relevant, accurate primary insights to customers on a large scale.
With the release of 2.0, this doesn't mean we're slowing down. Over the next few months, we'll be making further improvements to make the technology even more powerful in delivering the best experts to our customers.
Watch this space!