A good screener is key to kicking off a successful project - here are our top do's and don'ts when it comes to putting together a fool-proof screener.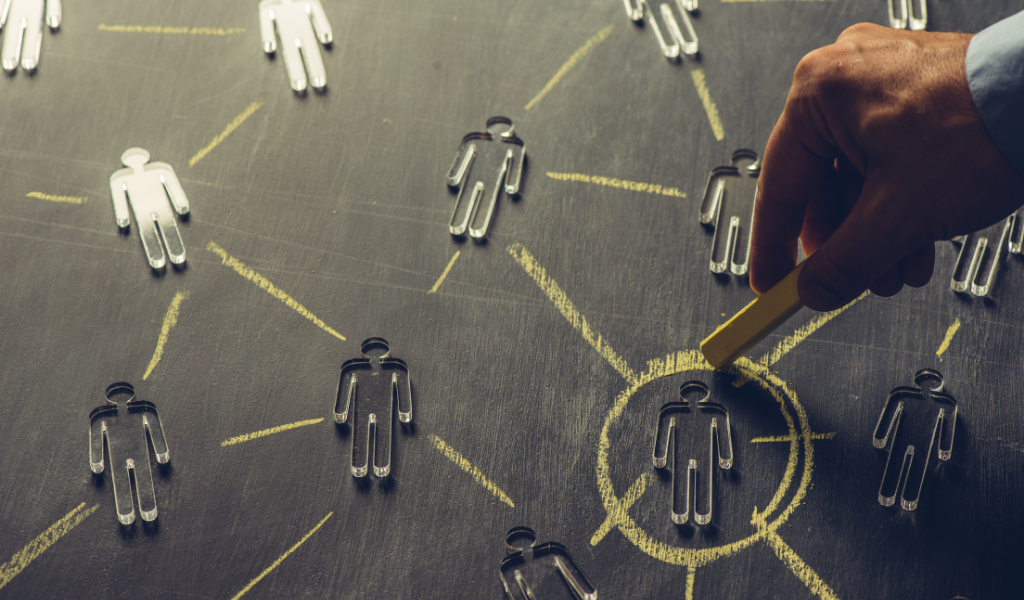 We pride ourselves on being able to connect you with experts in any specialty, anywhere, anytime. But our ability to deliver the precise experts you need for your project is only as good as the screener you send us, as it ensures our AI tech is hunting down the exact types of experts you're looking for and that they're a good fit for your project.
When it comes to screeners, we've pretty much seen it all – our project managers can easily tell a screener that'll fall flat on arrival from one that's going to quickly and easily capture the experts you need. Here are our top do's and don'ts to help you make your screener the best it possibly can be and get the most out of your expert engagements.
Do: ensure everything you need is covered
This might sound like an obvious one to start with, but it happens more often than you might think! In the rush to kick off a project and send out a screener, sometimes key criteria get missed or fall by the wayside. Ensure your screener captures all the information you're looking for from your experts – a good rule of thumb is to start with the basics, such as questions about their specialty, qualifications, background and years of experience. Then, drill down into the details of the project you're working on, such as specific duties within their line of work. Missing key information out of your screener can add lengthy delays to your project, increase costs and makes life harder for our experts. Your project manager will be on hand to help you check the details of your screener before we begin our outreach.
Don't: make it an essay
Nobody wants to spend half an hour filling in a form, and our experts are no different! You should ensure your screener is as short and succinct as possible while still capturing all the information you need to gain the right insights for your project. Don't include any unnecessary information or context and don't make questions too long – you should aim to include the absolute minimum number of questions necessary to capture the right people. Remember, our experts aren't getting paid to fill out your screener so ensure you're being respectful of their time. If you need more information from experts, or an additional screening stage before kicking off your project, speak to your project manager about setting up a paid questionnaire once they've passed the screener.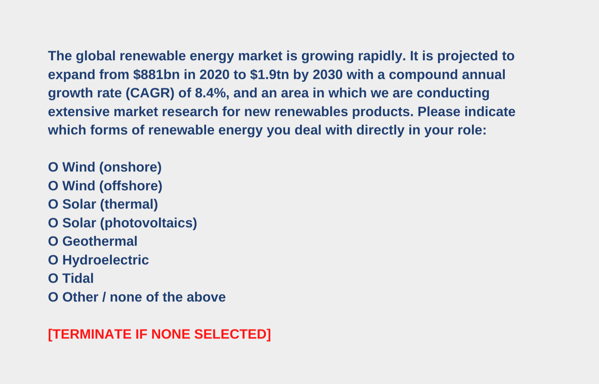 An example of a question with too much fluff – a clear question shouldn't be more than a sentence.
Do: be prepared to be flexible
Being flexible in your approach to screening experts could be essential to the success of your project. We handle projects across hundreds of different industries and each comes with its own set of challenges, and sometimes it can be hard to predict how a screener will land with our experts until we send it out. If you've had almost no experts passing your screener in a common or well-established specialty, it's probably time to look again at your criteria to check if it's too prescriptive. Similarly, if lots of experts have passed the screener but none have the expertise you're after, you might need to consider refining your approach. We'll also feed back what our experts are saying so we can make iterative adjustments to the screener if needed, ensuring it's the best it possibly can be. Your project manager will be on hand to advise on any changes needed and ultimately ensure you get the insights you need.
Do: ask clear questions
Your screener should have clear, concise questions requiring a simple answer – either a yes/no response, multiple choice or a quantitative figure. When asking for figures, specify the context – are you looking for the exact number of patients an expert treats per month or a percentage that present with the condition you're researching? Generally, you should avoid using free-text fields for responses unless it's necessary for the type of research you're doing, as text responses can be highly subjective and will vary widely. Try to keep the flow of questions clear and logical so it's as easy as possible for our experts to fill it out.

This is a poorly worded question that doesn't include a time frame and has a free-text field instead of multiple choice options, leaving the response open to interpretation.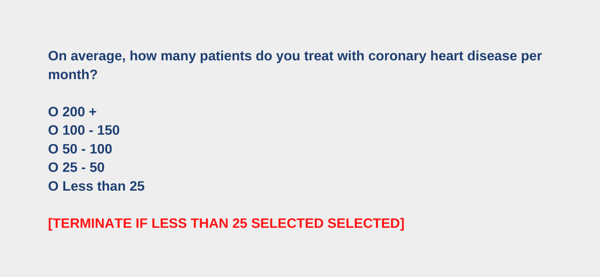 The same question in a more expert-friendly format.
Don't: assume consent
Some projects might require you to ask for personal or sensitive personal data in the screener. You should be mindful when collecting data of this nature as not everyone is comfortable giving it out on a screener. Again, a good rule of thumb here is to think about what information you'd personally be happy to share if you were filling out a screener as an expert. We take data protection very seriously, so don't forget to include relevant data protection disclosures and make it clear to our experts how their data will be processed and stored. If you're looking to make recordings or transcripts of expert engagements, we can help with that – but you need to ensure you ask for permission from the expert first! Your project manager can advise you on the many ways you can engage with our experts.
Do: include termination criteria for each question
A good screener will usually follow a linear set of questions designed to filter out the exact type of expert you need – which means setting clear termination criteria for each question. For example, if you're looking for key opinion leaders (KOLs) with 10 years of experience, ensure you add a clear terminate for responses that come in under 10 years. This saves time for all involved, as there's nothing worse than having an expert fill out an entire screener only to be rejected at the end for a criterion they didn't meet in the first place.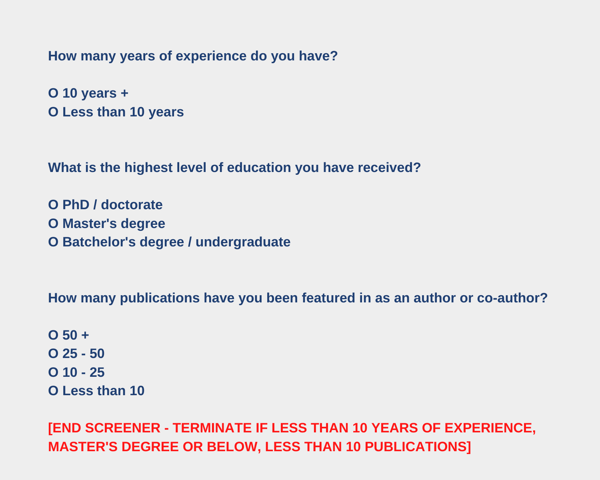 The questions here are good, but without terminations your experts may be filling in pointless questions, only to get to the end and find out they haven't qualified!
Do: be mindful of sensitive subjects
From time to time, we help our customers with projects where the subject matter could be highly sensitive – for example, terminal illnesses. If you're dealing with such a topic, your questions should be carefully and sensitively worded. Don't include unnecessary or probing personal questions unless it's essential to the screener – you can always follow-up after the screener if needed. You should also avoid asking for any information or data that could identify others, such as patient or customer data.
Do: make the most of your engagements
Ultimately, the most important thing is to ensure you get the key insights you're looking for from your experts. If your screener doesn't cut the mustard, it'll start your project off on the wrong foot before you've even started. If you're having any issues, your dedicated project manager will be able to assist and help you make the most of your engagements.
To learn more about how business are using expert insights to boost their primary market research projects, get in touch!